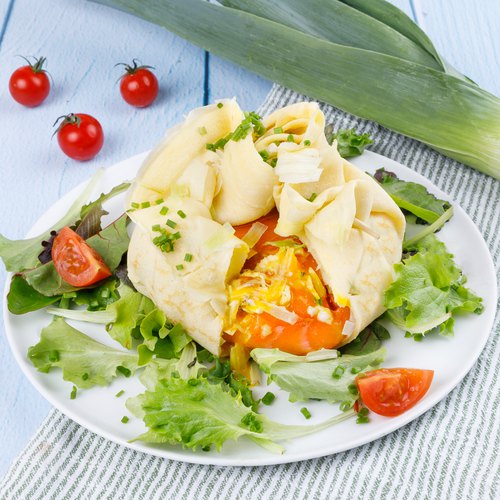 Salmon & Leek Stuffed Crepes
Salmon & Leek Stuffed Crepes! Discover the surprise in the center 🤩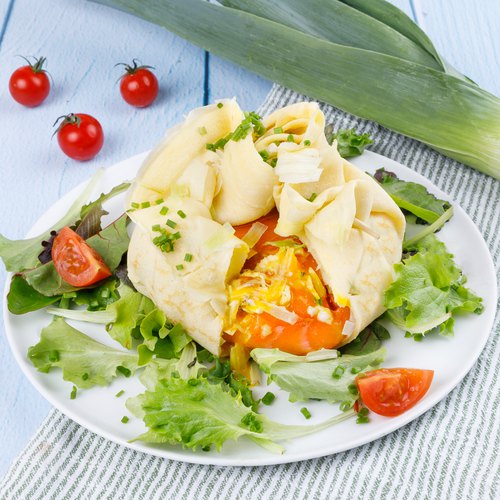 ---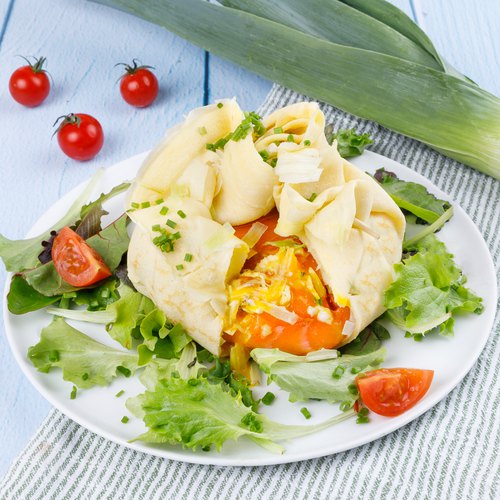 ---
Total time: 1 hour 3 minutes
Prep time: 35 minutes, Cook time: 28 minutes
Ingredients for 3 people
1 tsp of chefclub egg spice mix
7 egg
1.9 cups of milk
1 1/2 cups of flour
4 leeks
1 tbsp of olive oil
3 tbsp of butter
1 1/2 tbsp of mustard
1/2 cup of heavy cream
6 slices of smoked salmon
1 tsp of chefclub salad spices- garlic & herbs
Salad
Cherry tomatoes
---
Tools
Toothpicks
Cling wrap
---
Step 1/4
Cut the top off the shell of 3 eggs, sprinkle them with Chefclub egg spice mix. Line 3 cups with cling wrap, place the spiced eggs in each cup and close the cling film over the egg. Cook the eggs in boiling water for 2 minutes and 30 seconds. Set aside.
Step 2/4
Mix the milk, the rest of the eggs and the flour until you obtain a smooth batter and set it aside. Cut the root of a leek, shred the white of the leek with a fork and remove the center of the leek. Pour a ladle of crepe batter, cut pieces of leek on the pancake while it cooks, repeat the process 3 times.
Step 3/4
Cut the rest of the leeks into pieces, cook them in a hot pan with a drizzle of olive oil, add the butter and cook for 10 minutes. Add mustard, heavy cream, season with salt and pepper. Cook over low heat to obtain a leek fondue.
Step 4/4
Line 3 the cling wrap and cover with 2 slices of smoked salmon. Place the leek fondue and the poached eggs in the centre, cover with the leek fondue. Fold the cling wrap to form a ball and unmold the salmon on a plate. Place the salmon in the center of the savory crepes and close the crepes around the salmon. Secure the end of the crepes with a toothpick, repeat the process to have 3. Place the crepes on a plate with lettuce and cherry tomatoes. Sprinkle with Chefclub garlic and herb spices. Serve and enjoy!