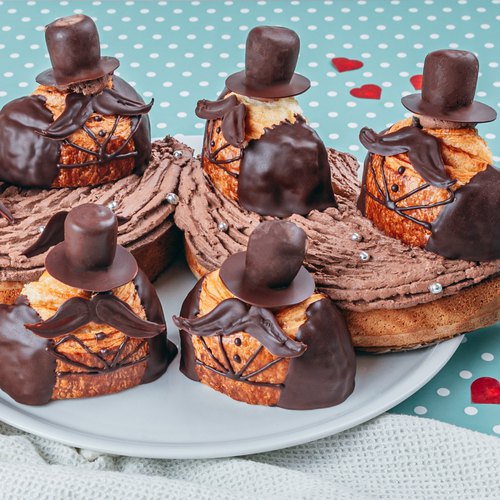 Daddy Dearest Chocolate Bread
Daddy Dearest Chocolate Bread! Tip your hat to this delicious dessert 👨🍫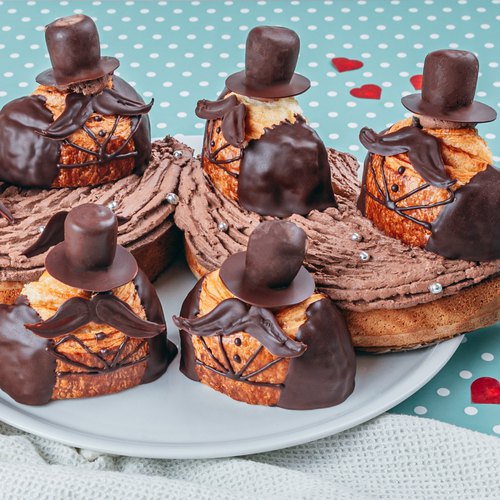 ---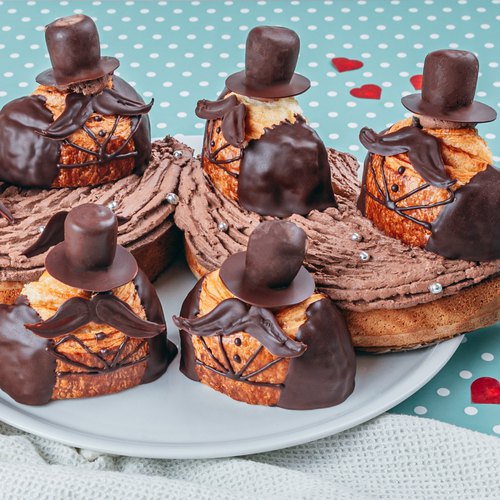 ---
Total time: 1 hour 45 minutes
Prep time: 40 minutes, Cook time: 35 minutes, Rest time: 30 minutes
Ingredients for 3 people
1 3/5 cups of flour
2 tsp of baking powder
3 1/2 tbsp of butter
6 egg
1 cup of sugar
7 oz of dark chocolate
6 chocolate breads
1 cup of heavy cream
10 1/2 oz of milk chocolate
Sugar pearls
---
Tools
Comb
Plastic sheet protector
Wine corks
parchment paper
Electric hand mixer
---
Step 1/4
Mix the flour, the baking powder, the melted butter, the eggs and the sugar to obtain a sponge cake batter. Pour into the buttered mold and bake for 35 minutes at 350°F.
Step 2/4
Melt the dark chocolate and dip 3 corks tied to strings in the melted dark chocolate before plunging them into a bowl of ice water. Form a cone with parchment paper and put some of the melted dark chocolate in it. Form 3 circles of chocolate, close the plastic sheet protector and press down on the melted chocolate to obtain 3 discs. Draw 3 mustaches on the plastic sheet protector using your finger. Cut 3 chocolate breads widthwise, cover the ends of each chocolate bread and place them vertically on a baking sheet lined with parchment paper. Place the chocolate breads and the chocolate decorations in the freezer.
Step 3/4
Beat the heavy cream and add the melted milk chocolate. Put the whipped cream in a piping bag. Unmold the cake, cut it in half forming a wave and pipe the whipped cream on each part of the cake. Form lines on the whipped cream using a comb to obtain a mustache.
Step 4/4
Draw a bow, the buttons with the melted chocolate using the paper cone on the front side of the chocolate bread. Glue a disc of chocolate on top of the chocolate bread with the whipped cream. Unmold the chocolate from the cork, garnish it with whipped cream and place it on the chocolate disk to create the hat. Glue the chocolate mustache with a dot of melted chocolate. Repeat the process for all the chocolate breads. Place the chocolate breads on the cake and decorate with a few sugar pearls. Serve and enjoy!