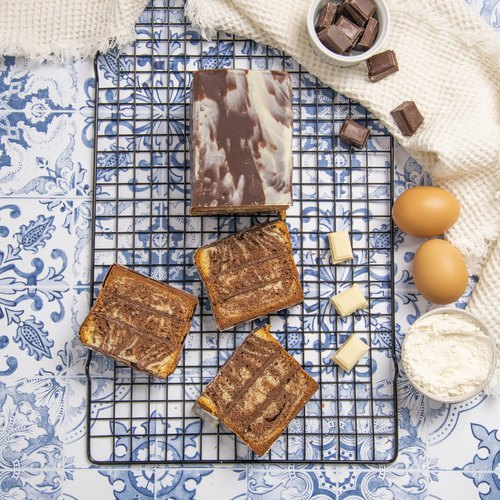 Double Marble Cake
Double Marble Cake! Double the flavor, double the fun with this delicious treat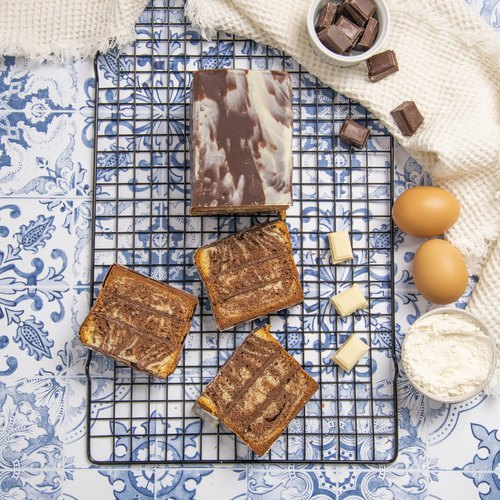 ---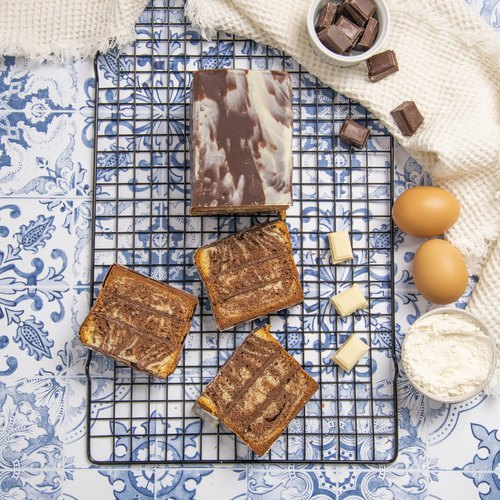 ---
Total time: 2 hours
Prep time: 40 minutes, Cook time: 1 hour 20 minutes
Ingredients for 4 people
3 1/2 oz of white chocolate
3 1/2 oz of dark chocolate
5 egg
1 cup of sugar
1 3/5 cups of flour
3 tsp of baking powder
Salt
Chocolate hazelnut spread
1 cup of butter
---
Tools
Cling wrap
Ziplock bag
Skewers
---
Step 1/3
To create a marbling effect, start by breaking the white chocolate into small pieces on a plate and microwaving it for 30 seconds. Next, crumple a large sheet of plastic wrap and make several marks on it by holding the white chocolate squares between your fingers. Then, stretch the wrap and cover it with melted dark chocolate, making sure to spread it evenly over the entire sheet. Finally, set it aside to cool and achieve the desired marbled pattern.
Step 2/3
Start by whisking together the eggs, sugar, and a pinch of salt in a mixing bowl. Then, add the flour and baking powder mixture, followed by gradually adding ¾ cupf and 2 tbsp of melted butter while stirring continuously. Divide the mixture into two bowls, adding cocoa powder to one half. Butter and flour a cake mold, then pour the two bowls simultaneously to create a marbled effect. Use skewers to swirl the batter together. To finish, pipe a line of butter down the center of the cake using a Ziplock bag, and bake at 350°F for 20 minutes, then reduce the temperature to 250°F and bake for an additional hour.
Step 3/3
Cut off the rounded top of the marbled cake, then cut the remaining cake into 3 equal parts. Spread a layer of chocolate hazelnut spread over the 2 bottom parts and assemble the cake. Place it in the center of a sheet of plastic wrap covered in chocolate, cut the corners, and fold the rest over the cake to cover it completely. Chill the cake to set the chocolate decoration, serve and enjoy!