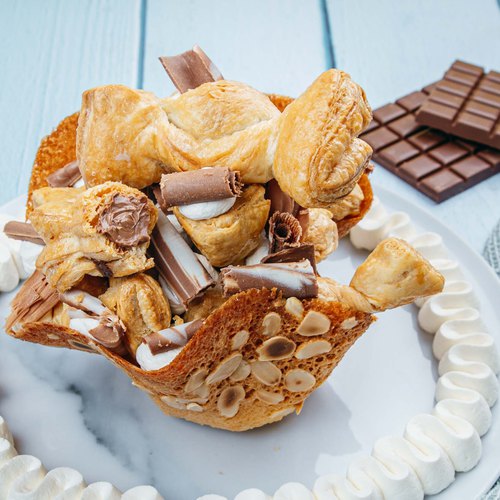 Chocolate Bonbon Bowl!
Chocolate Bonbon Bowl! Time to shake your bonbon with this dessert 😉🍬🍫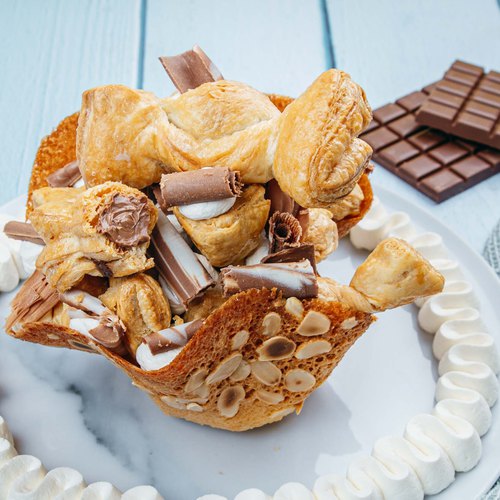 ---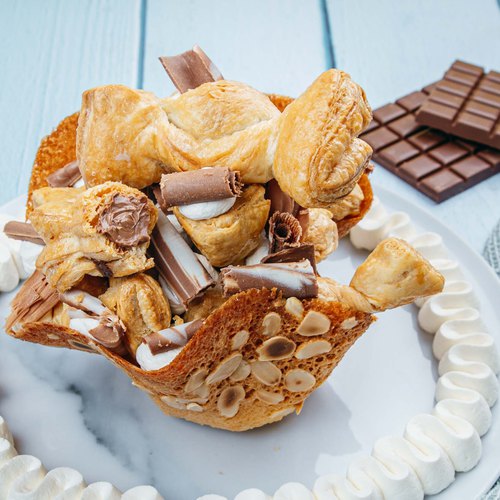 ---
Total time: 55 minutes
Prep time: 5 minutes, Cook time: 45 minutes, Rest time: 5 minutes
Ingredients for 4 people
9 chocolate lindt balls
3 1/2 oz of milk chocolate
3 1/2 oz of white chocolate
3 3/4 tbsp of flour
1/4 cup of egg whites
4/5 cup of powdered sugar
2 1/2 tbsp of butter
1/2 cup of sliced almonds
1 puff pastry
1/2 cup of whipped cream
2 3/5 oz of cream cheese
---
Tools
Non-stick baking mat
Palette knife
---
Step 1/4
In a bowl mix the flour, egg whites, butter and powdered sugar together. Spread it an a silicone mat and sprinkle with the sliced almonds. Bake 15 minutes at 320°F. Remove from oven and set aside.
Step 2/4
On a frozen baking sheet, pour the milk chocolate and white chocolate. Spread it with a palette knife and scrape the chocolate to make shavings. Chill until set.
Step 3/4
Place on puff pastry the Lindt chocolates. Cut the puff pastry into rectangles around the chocolates. Twist the ends of the puff pastry to create a candy shape. Bake for 30 minutes at 350°F.
Step 4/4
Create a bowl shape with the almond tuile. Add some whipped cream to the bowl as well as the chocolate bon bons and chocolate shavings. Serve and enjoy!