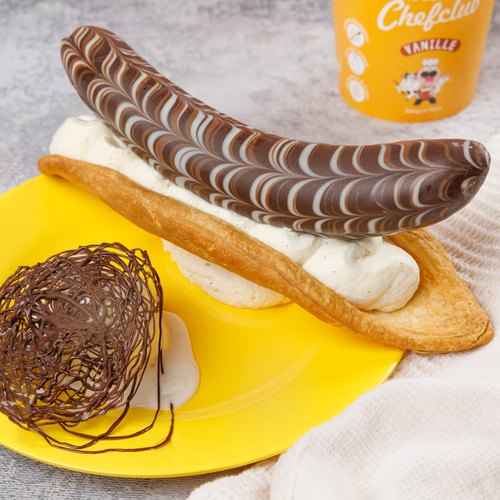 Homespun Chocolate Bananas
Homespun Chocolate Bananas! Go bananas for this sweet recipe 😉🍌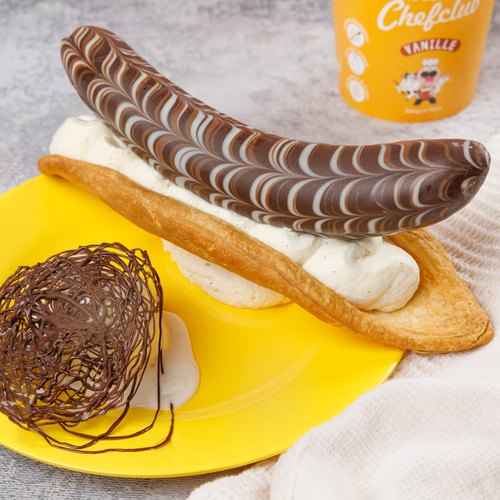 ---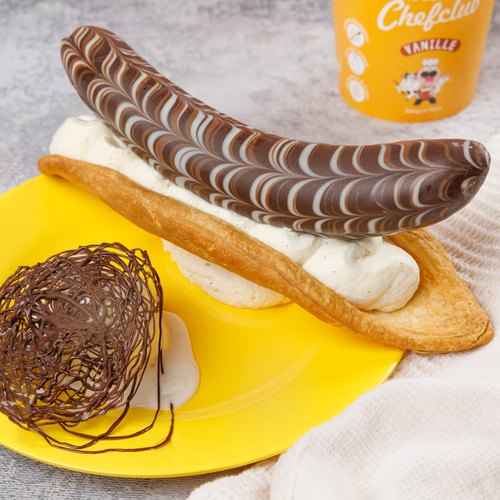 ---
Total time: 1 hour 25 minutes
Prep time: 35 minutes, Cook time: 20 minutes, Rest time: 30 minutes
Ingredients for 3 people
3 bananas
7 oz of dark chocolate
3 1/2 oz of white chocolate
3 1/2 oz of milk chocolate
2 puff pastries
1 1/4 cups of heavy cream
2 tbsp of powdered sugar
5.3 oz of mascarpone
1 pint of vanilla ice cream
Butter
---
Tools
Toothpicks
Ziplock bag
---
Step 1/3
Remove the banana peels. Melt the dark chocolate, the white chocolate, the milk chocolate, coat the bananas with the dark chocolate then form lines of chocolate with the white chocolate and the milk chocolate. Form the pattern with a toothpick. Trace circles with the remaining dark chocolate on 3 plates to form 3 discs of chocolate. Refrigerate the chocolate discs and bananas for 30 minutes.
Step 2/3
Place a grill balanced on 4 glasses, butter the grill, cut the puff pastry into 3 then place each part on the grill, leaving the edges in the interstices. Bake for 20 minutes at 340°F.
Step 3/3
Whip the heavy cream, powdered sugar and mascarpone, place it in a ziplock bag then cut a corner. Spread the whipped cream in the puff pastry shells then place the chocolate bananas on the whipped cream. Place a scoop of Chefclub vanilla ice cream next to it, place the chocolate disc on the ice cream and enjoy!