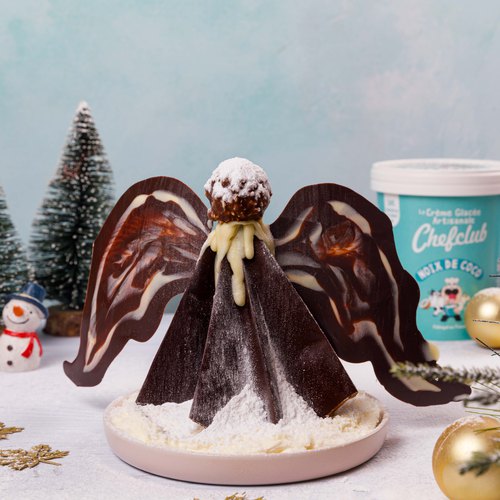 Chocolate Snow Angels
Chocolate Snow Angels! This recipe will give you wings 👼🎄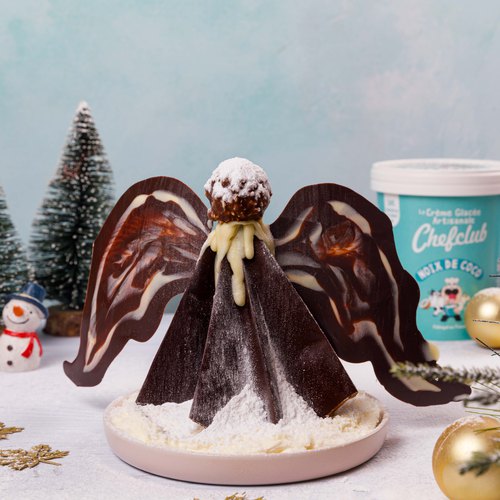 ---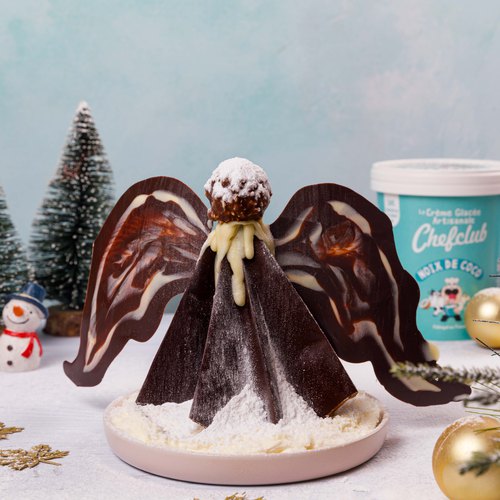 ---
Total time: 1 hour 40 minutes
Prep time: 40 minutes, Cook time: 1 hour
Ingredients for 3 people
4 ferrero rocher chocolates
1 1/2 cups of white chocolate
1 1/4 cups of milk chocolate
2.3 cups of dark chocolate
2 cups of heavy cream
3 tbsp of hazelnut praline
0.3 cup of chefclub coconut ice cream
1/2 cup of shredded coconut
2 tsp of powdered sugar
---
Tools
Skewers
Popsicle sticks
Baking sheets
---
Step 1/4
Place a plastic bag on a baking sheet. Melt the white chocolate then place it in a bowl. Skewer 3 ferrero rocher chocolates and dip half of them in melted white chocolate. Form a circle of white chocolate on the plastic bag then place the remaining ferrero rocher chocolate. Reserve 30 minutes in the fridge.
Step 2/4
Fold a sheet of paper in 2, draw a wing, cut out the wing then place it in a plastic bag on a baking sheet. Melt dark chocolate and milk chocolate, form 3 cones with baking paper then pour each of the chocolates in a cone and the rest of white chocolate in the last. Trace the outline of the wings with the dark chocolate. Draw a line of white chocolate and a line of milk chocolate to complete the dark chocolate.
Step 3/4
Stretch the chocolate with a chain to form a pattern with the chocolate. Sprinkle with praline and set aside. Fold a sheet of paper until you get a triangle. Unfold the sheet, cut a line to the center, fold again into a triangle, cut the edge in an arc. Open the sheet of paper to make a star and then staple opening. Place the star on top of a cup, pour the rest of the chocolate in the center, spread the chocolate on all sides then remove the excess. Refrigerate the wings and star for 30 minutes. Repeat the process 2 times for the star and the wings.
Step 4/4
Heat half the liquid cream and pour over the 1.5 cup of dark chocolate. Mix and add the rest of the cold cream. Allow to cool, then whisk to make the ganache. Unmold the chocolate from the sheet of paper and dip the center of the star in the remaining melted white chocolate. Garnish with the chocolate ganache. Form an ice cream bar with the popsicle sticks and the Chefclub coconut ice cream. Roll the ice cream bar in the praline then place the Chefclub coconut ice cream in the center of the stars. Remove the stick. Sprinkle the grated coconut on the plates, turn the star over and place it on the plate. Place the ferrero rocher chocolates on top. Arrange the chocolate wings on each side. Sprinkle with icing sugar and enjoy.