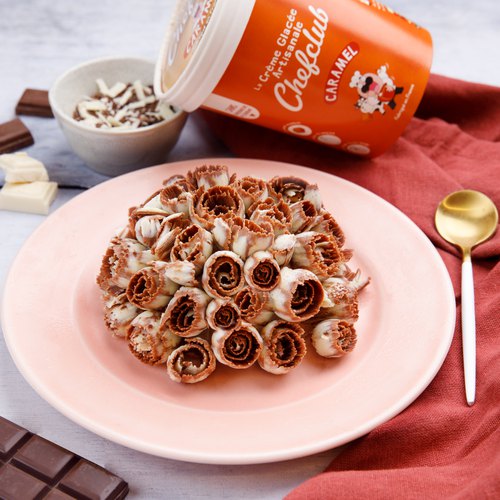 Caramel & Chocolate Igloo
Caramel & Chocolate Igloo! Eskimo approved to stay cool 🍫🥶🌞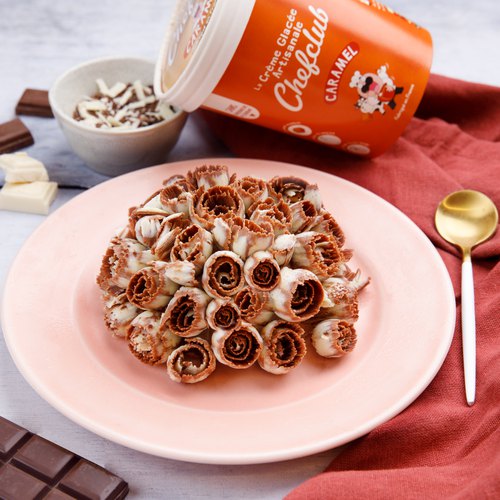 ---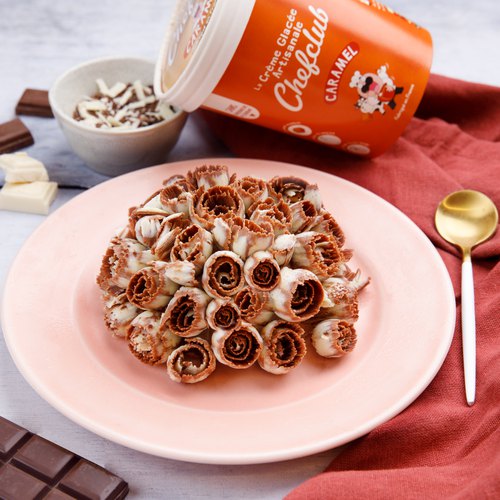 ---
Total time: 2 hours
Prep time: 30 minutes, Rest time: 1 hour 30 minutes
Ingredients for 3 people
1 pint of chefclub caramel ice cream
1 3/4 cups of heavy cream
7 oz of white chocolate
17 oz of milk chocolate
---
Tools
Comb
Cling wrap
Electric hand mixer
---
Step 1/4
Melt the white chocolate and 7 oz of milk chocolate. Pour the melted white chocolate onto a baking sheet, spread it over the entire surface and shape it with a comb. Add the melted milk chocolate on top and spread over the white chocolate. Let it harden and scrape the chocolate to make flowers.
Step 2/4
Place the remaining milk chocolate in a bowl and pour 0.9 cup of hot heavy cream on top. Mix until smooth. Add the ice cream and mix again. Place the mixture in the fridge for 30 minutes.
Step 3/4
Beat the mixture. Line the bowls with cling wrap and spread the chocolate mousse inside, covering the sides. Place a scoop of Chefclub caramel ice cream in each small bowl. Coat the Chefclub caramel ice cream scoops with more mousse and flatten the surface. Place the bowls in the freezer for 1 hour.
Step 4/4
Unmold the mousses from the bowls. Cover the entire surface of the domes with the chocolate roses and enjoy!