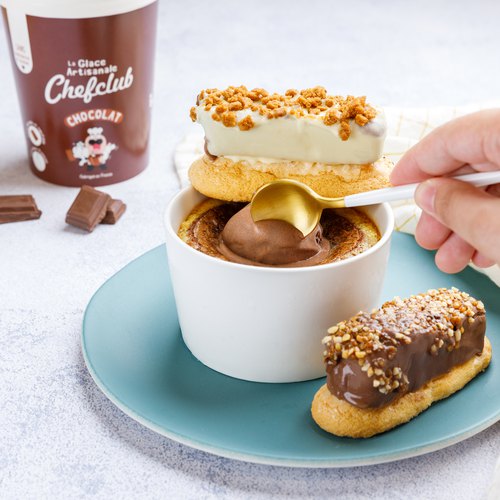 Chocolate Ice Pops
Chocolate Ice Pops! Perfect for dipping all day long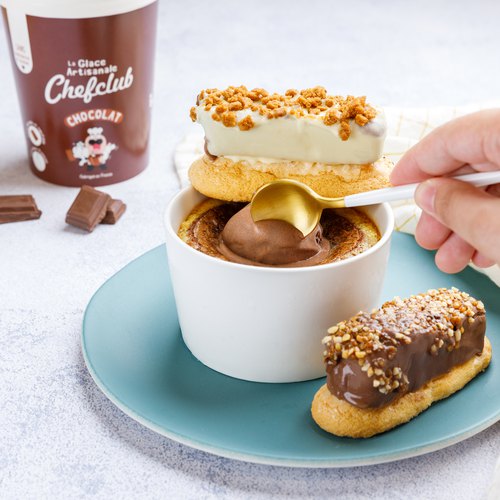 ---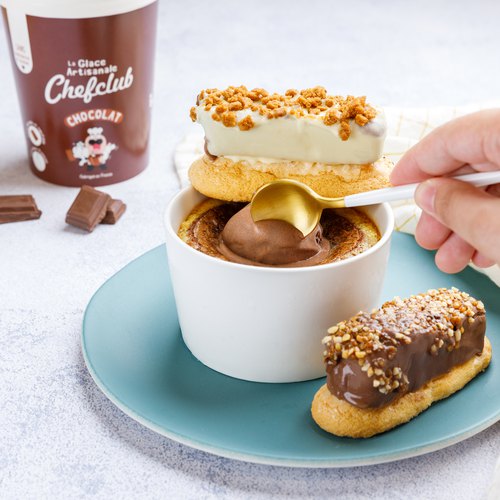 ---
Total time: 35 minutes
Prep time: 20 minutes, Cook time: 15 minutes
Ingredients for 3 people
7 oz of dark chocolate
7 oz of white chocolate
7 oz of milk chocolate
1 pint of chocolate ice cream
2 oz of speculoos cookies
2 oz of hazelnuts
2 oz of almonds
6 ladyfingers
2 molten chocolate cakes
---
Tools
Skewers
Small ramekin
---
Step 1/4
Start by breaking each chocolate tablet and placing the milk, dark, and white chocolate separately into three glasses. Cook them in a double boiler, making sure to protect the glasses with ramekins. Once melted, mix the chocolate in each glass thoroughly. Next, take the Chefclub chocolate ice cream jar and slice a piece from the base, setting it aside in the freezer for later.
Step 2/4
Insert the skewers into the upside-down chocolate ice cream pint. Remove the ice cream from the pint by applying pressure to the skewers. Cut the chocolate ice cream into 4 long strips and repeat the process for the width.
Step 3/4
Using a skewer, grab a chocolate ice cream stick and dip it into dark chocolate. Press one side into powdered speculoos and place it on top of a ladyfinger. Dip another stick into milk chocolate, then press it into crushed hazelnuts and place it on top of another ladyfinger. For the third stick, dip it into white chocolate, press it into powdered speculoos, and place it onto a ladyfinger. Repeat this process for the remaining sticks, alternating the powder coatings. Once done, freeze the ice cream sticks.
Step 4/4
Place a ladyfinger on the rim of the ramekins containing the molten chocolate cake, then place the second ladyfinger on the plate. Place a scoop of Chefclub chocolate ice cream on top of the molten chocolate cake and enjoy!