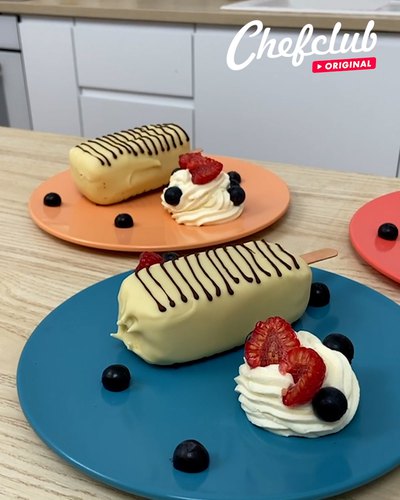 Cookies & Fruit Ice Cream
Cookies & Fruit Ice Cream! Layers & layers of tastiness 🍦🍪🍓🍫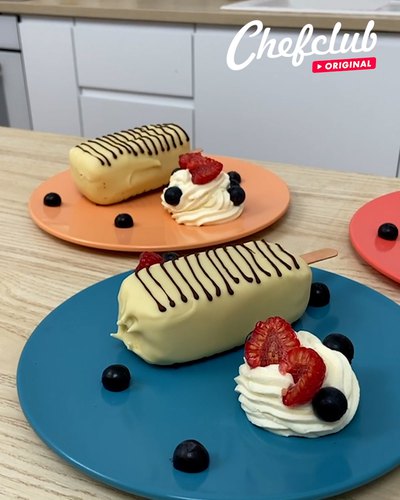 ---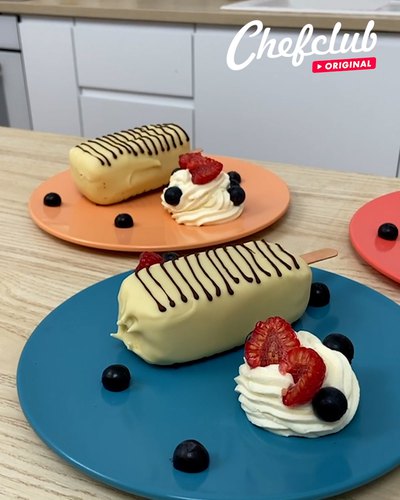 ---
Total time: 1 hour 55 minutes
Prep time: 35 minutes, Rest time: 1 hour 20 minutes
Ingredients for 3 people
1 pint of strawberry ice cream
1/2 cup of heavy cream
4 tbsp of mascarpone
2 tbsp of sugar
6 raspberries
12 blueberries
7 oz of white chocolate
1 oz of dark chocolate
Sliced almonds
3 ladyfingers
---
Tools
Popsicle sticks
---
Step 1/4
Place a baking sheet in the freezer for 30 minutes. Melt the dark chocolate, then use it to make lines on the cold pan. Let the chocolate harden, cut the lines into 5 pieces and refrigerate for 30 minutes.
Step 2/4
Empty the boxes of heavy cream into a bowl and cut them in half lengthwise. Whip the cream, mascarpone and sugar to make a whipped cream. Place the 2 halves of the box on the table and insert the popsicle sticks in three of them. Fill with the strawberry ice cream, leaving a cavity in the middle. Cut 3 ladyfingers in two, lengthwise, and put some whipped cream on top. Put whipped cream in the other half of the box as well. Cut 3 raspberries in half and place them in the half containing the ice cream, add 2 blueberries between the raspberries. Place in the freezer for 20 minutes.
Step 3/4
Cover the raspberries and blueberries with the strawberry ice cream, combine the 2 parts of the boxes, let it rest for a few minutes and unmold the popsicles. Melt the white chocolate and dip the popsicles in it. Place each popsicle half with white chocolate on the baking sheet containing the dark chocolate lines to decorate. Add the sliced almonds.
Step 4/4
Serve on a plate with some whipped cream, blueberries and raspberries and enjoy!