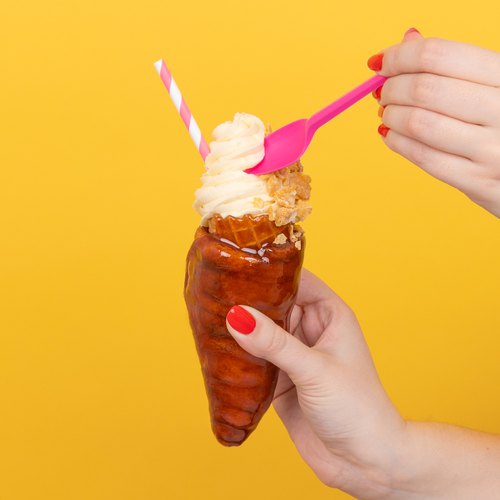 Crown Royal Peach Cone
Crown Royal Peach Cone! This dessert will leave you peachless 😉🍑🍦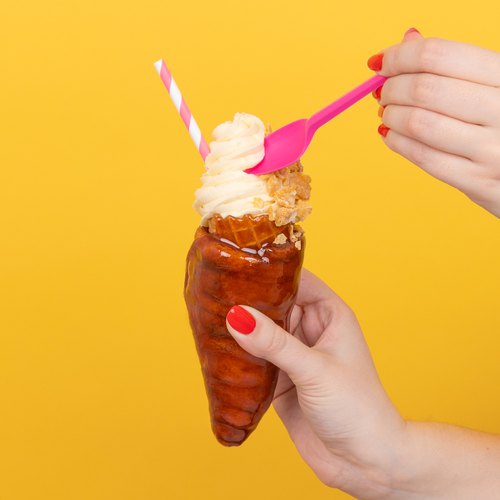 ---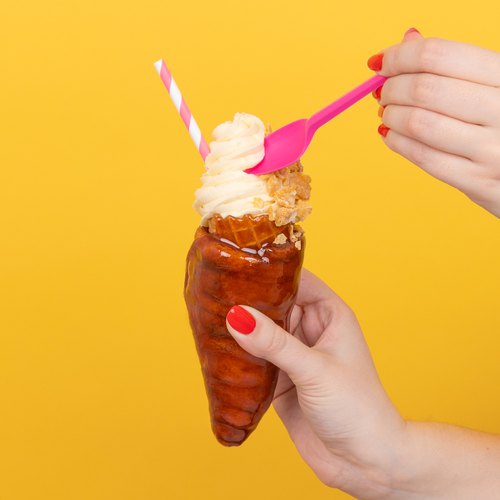 ---
Total time: 55 minutes
Prep time: 20 minutes, Cook time: 15 minutes, Rest time: 20 minutes
Ingredients for 4 people
Ice cream cones
Cinnamon sugar
Cinnamon roll dough
Oil
Peaches
Peach syrup
Butter
Cinnamon
Sugar
Dry ice
Milk
Heavy cream
Vanilla extract
Powdered milk
Salt
Cereal
Whiskey
---
Tools
Piping bag
Straw
Electric hand mixer
---
Step 1/3
Roll the cinnamon roll dough out thinly, dip in cinnamon sugar, and wrap it around an ice cream cone. Fry until golden brown and set aside.
Step 2/3
Cook the peaches in a pan with peach syrup, butter, and cinnamon. Remove from heat and set aside. Pour some sugar into a pan to create a caramel and coat the cinnamon roll cones in the caramel. Fill the cones with the cooked peaches.
Step 3/3
Crush the dry ice into a fine powder. Mix milk, heavy cream, milk powder, sugar, salt, and dry ice with an electric mixer until creamy. Place the ice cream into a piping bag and pipe a large swirl on a sheet of parchment paper. Create a small hole in the ice cream, fill with it whiskey and top it with cereal. Place on top of the cones, serve with a straw and enjoy!