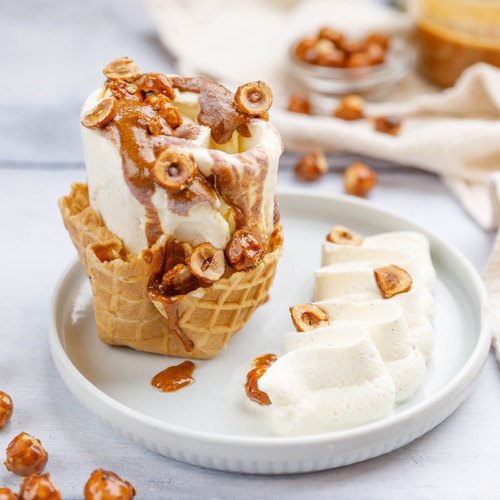 Happy Hour Dessert
Happy Hour Dessert! Licorice flavored alcohol rolled into a creamy dessert 🍨🥃🤩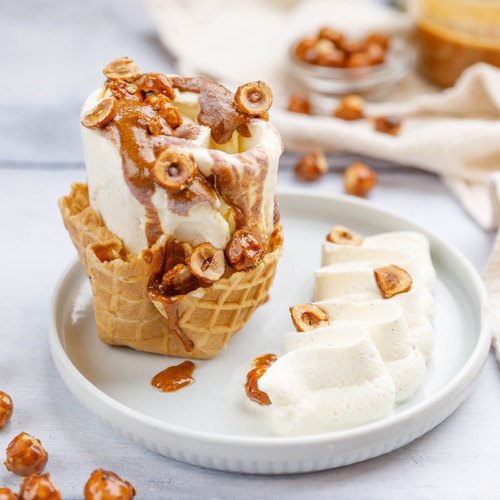 ---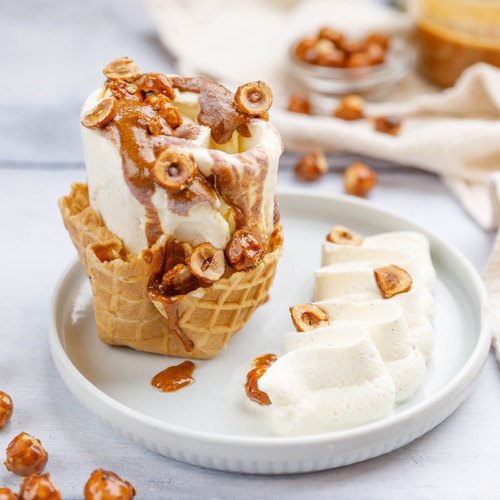 ---
Total time: 1 hour 45 minutes
Prep time: 50 minutes, Cook time: 25 minutes, Rest time: 30 minutes
Ingredients for 3 people
2.1 cups of heavy cream
4 tbsp of anise-flavoured spirit
1/2 cup of condensed milk
3 ice cream cones
3 tbsp of hazelnut praline
Whipped cream
Caramelized hazelnuts
---
Tools
Bench scraper
---
Step 1/4
Mix the anise-flavore spirit, the heavy cream and the condensed milk into a small baking tray. Pour water into a large baking sheet. Add the first plate in the second and place in the freezer for 30 minutes.
Step 2/4
Cut the ice cream obtained into 3 strips lengthwise. Using a scraper, roll up the strips of ice cream. Place the rolls upright on a plate and set aside in the freezer.
Step 3/4
Cook the cone in a steamer basket over low heat for a few minutes to soften it. Unroll the cone and cook again for 1 minute. Repeat the process for the other 2 cones. Line the bottom of the ramekins with the unrolled cones. Bake for 10 minutes at 210°F.
Step 4/4
Take the ice cream rolls out of the freezer. Arrange the wafers on each plate, place the rolls in each wafer. Pour a teaspoon of praline on each ice cream and sprinkle with caramelized hazelnuts on top. Add a line of whipped cream sprinkled with caramelized hazelnuts. Serve and enjoy!