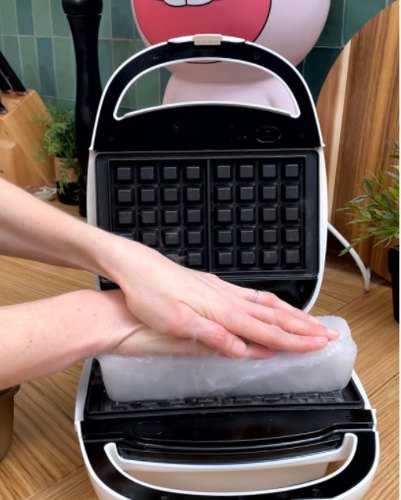 Maple Chips & Vanilla Ice Cream
Maple Chips & Vanilla Ice Cream! Time to syrup some fun in the kitchen today 🤗🍁🍨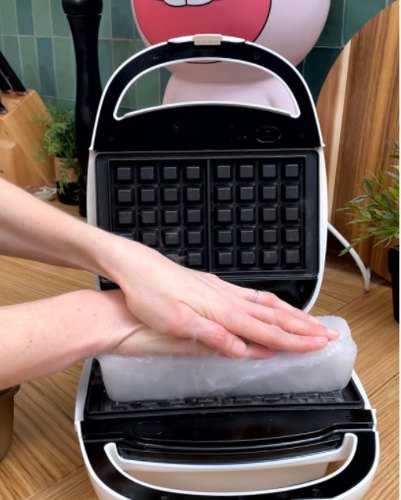 ---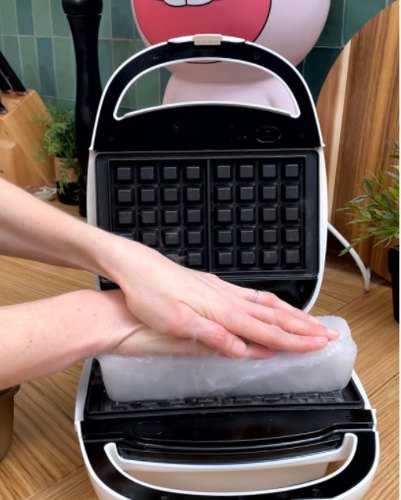 ---
Total time: 12 hours
Cook time: 20 minutes, Rest time: 11 hours 40 minutes
Ingredients for 6 people
1 l of water
1 cup of maple syrup
1 box of condensed milk
2 cups of heavy whipping cream
1 tbsp of vanilla extract
4 potatoes
1 l of vegetable oil
3 tbsp of butter
1 tsp of salt
---
Tools
Waffle maker
Popsicle sticks
Spiralizer
Salade spinner
---
Step 1/5
The night before place warm water into a loaf pan. Freeze overnight or until completely frozen.
Step 2/5
Stir together the condensed milk and the vanilla extract. In a large bowl whip the cream into stiff peaks. Gently fold the cream and the sweetened condensed milk-vanilla mixture until combined. Spread into a deep rectangle baking pan and place in the freezer.
Step 3/5
Press the giant ice cube into the waffle maker to create a waffle imprint. In a small saucepan, heat half a cup of maple syrup to a rolling boil. If using a thermometer the temperature should be around 240°F. If not using a thermometer then remove from the heat when a small drop of maple syrup solidifies on the ice. Pour the hot maple syrup onto the ice. The maple syrup will pool in the imprints. Using a large popsicle stick, roll the maple candy around the popsicle stick. Place the stick into the ice cream. Place the ice cream in the freezer until time to assemble the dessert.
Step 4/5
Peel the potatoes. Use a spiralizer and slice the potatoes into thin spirals. Let the potato slices soak in cold water to remove some of the starch. Place the sliced potatoes in the salad spinner. Spin them to remove excess water before placing them into a deep pot of hot oil (375°F). Cook until golden and crisp. Drain on a paper towel lined dish.
Step 5/5
In a saucepan, heat up the rest of the maple syrup until bubbling and deglaze the pan with butter. Toss the potato chips in the maple syrup and butter mixture until well coated. Sprinkle with flaky sea salt. Cover the ice cream bars with the caramelized potato chips. Serve and enjoy!