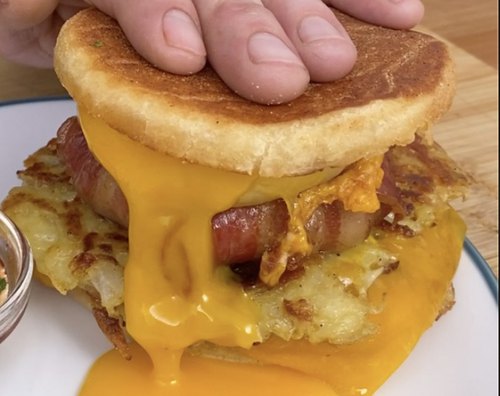 Breakfast Sandwich 2.0
Breakfast Sandwich 2.0! Raise a toast to this renovated recipe 🤗☀️🥪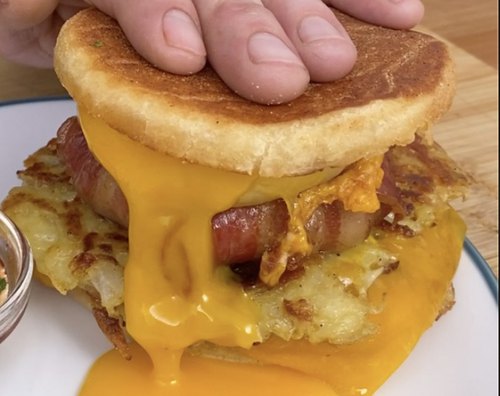 ---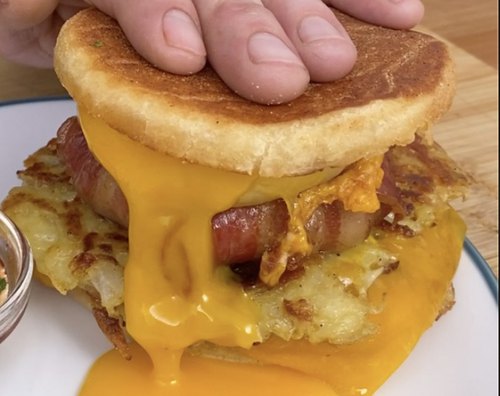 ---
Total time: 45 minutes
Cook time: 45 minutes
Ingredients for 1 person
1 muffin
Sausage meat
2 slices of cheddar
Maple syrup
Onion, sliced into rings
4 slices of bacon
2 eggs
Salt & pepper
1 sliced jalapeños
2 tbsp of butter
Parsley
1/2 cherry tomato
1/2 onion, chopped
1/2 cup of flour
2 potatoes
Vegetable oil
Water
---
Step 1/4
Shred the potatoes. Rinse in water then strain well. Mix in flour, salt, pepper, chopped onion and 1 egg. Form ball and flatten onto medium hot pan adding a little butter to each side while cooking. Add a slice of cheddar between the two hash browns.
Step 2/4
With the help of a glass place the bacon on top and flip to make a star shape. On a board place a sausage ball in the center of the bacon and flatten it. Place a small onion ring into the center of the sausage patty then pour a little maple syrup into the onion ring. Close up the bacon and bake at 350°F for 15-20 minutes.
Step 3/4
Place a large onion ring onto a pan and pour an egg into it. Season with salt and pepper. Add jalapeños and bacon. Cover with a heat resistant dish and add a little water to steam the egg and melt the cheese.
Step 4/4
Butter up and toast a muffin. Cut it in 2. Assemble the sandwich by placing the bottom of the muffin followed by the hash brown patties with cheese. Add the bacon wrapped sausage patty then top with the egg in onion ring, cherry tomato and parsley. Cover with the muffin top. Enjoy!