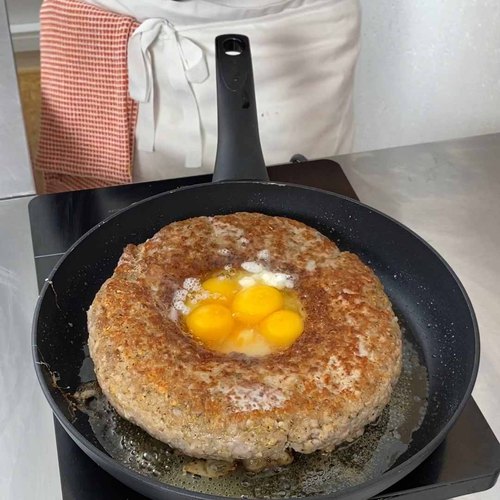 Brunch-in-One
Taking brunch casseroles to the next level! 🍳🥞🥓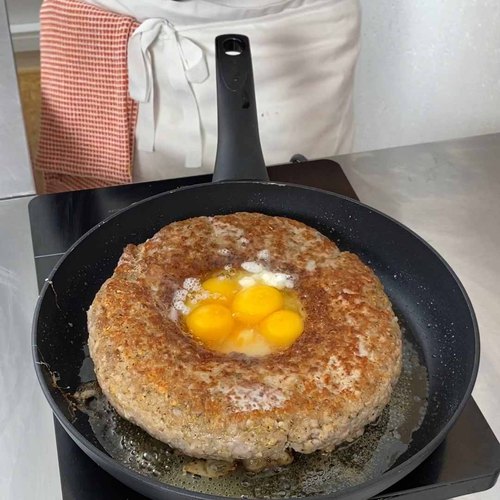 ---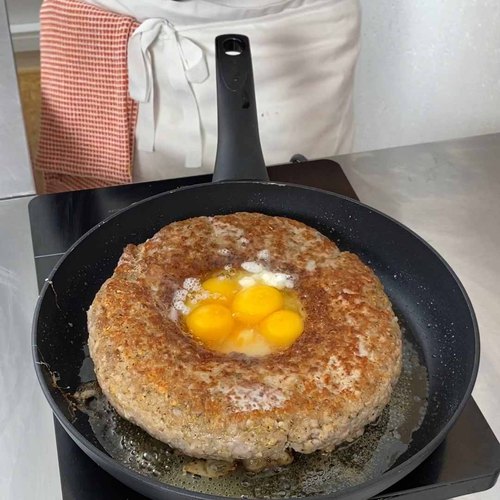 ---
Ingredients for 8 people
1 lb of bacon
1/2 lb of ground pork
9 eggs, divided
3/4 cup of bread crumbs
1 tsp of thyme
1 tsp of fennel seeds
salt & pepper
1/2 cup of cornstarch
1 tbsp of garlic powder
hot oil
cheddar cheese slices
3 1/2 cups of flour
2 1/2 tbsp of baking powder
1 1/4 cups of sugar
1 tsp of salt
1 2/3 cups of milk
1 1/2 tbsp of vegetable oil
2 tbsp of butter, divided
whipped butter
maple syrup
2 slices of cooked bacon
---
Tools
Small bowl
Circular cake tin
Spatulas
---
Step 1/4
Begin by layering the bacon slices in the round cake pan until you have covered the surface of the pan. In a bowl, mix the ground pork, 1 egg, bread crumbs, thyme, fennel seeds, salt & pepper to taste, corn starch, and garlic powder. Form the meat into a round disk (it should be the same circumference as the cake tin). Take the small bowl and cut out a small circle from the center so the meat makes a donut shape. Press the removed extra meat onto the surface of the disk.
Step 2/4
Transfer the meat to a frying pan with hot oil using 2 spatulas and brown both sides of the meat. Add in 5 eggs to the center of the meat disk, cover, and let cook for several minutes. Remove the meat disk from the frying pan and place it into the bacon lined cake tin and cover with cheese slices. Fold up the bacon from the edges and bake at 350° F for 35 minutes.
Step 3/4
In a large bowl whisk the flour, baking powder, sugar, salt, 3 eggs, milk, and vegetable oil. Remove the meat dish from the oven. Cook one large pancake in a frying pan with 1 tbsp of butter until bubbles have appeared on the surface and the pancake no longer sticks to the pan. Place the meat dish on top of the pancake, cover, and let cook several minutes. Remove the cover and flip the pancake onto a plate. Set aside.
Step 4/4
Cook a second large pancake in the frying pan with 1 tbsp butter. Once bubbles have formed, place the meat and pancake dish on the surface of the new pancake, so the meat is sandwiched between the two pancakes. Cover and let cook for several minutes. Then remove the large pancake bake from the frying pan by flipping it onto a large plate. Garnish with whipped butter, maple syrup, and cooked bacon slices. Enjoy!