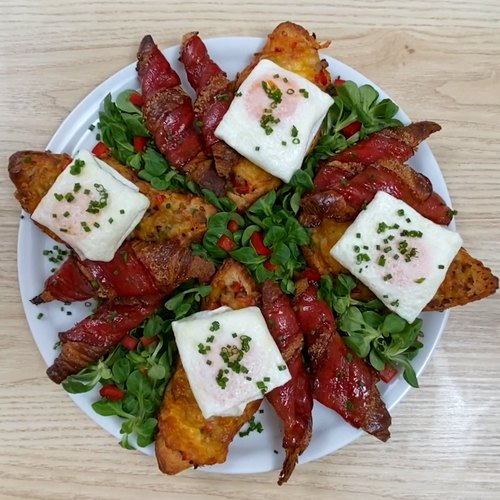 Croissant Toasts
An egg-stra great start to your morning☀️🥐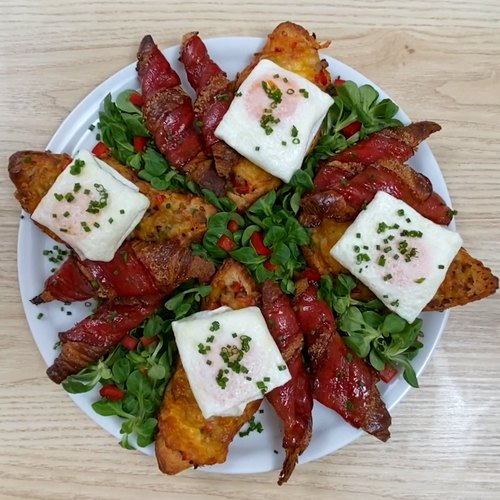 ---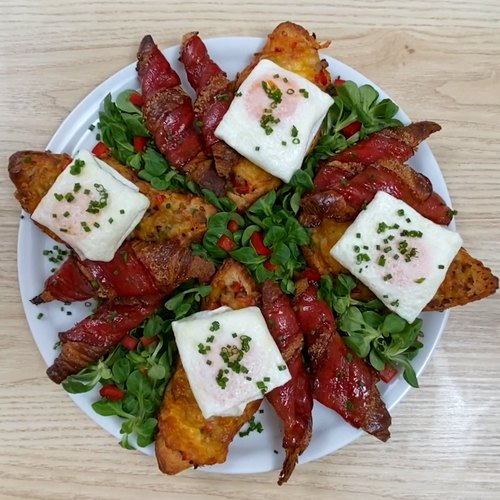 ---
Ingredients for 4 people
4 croissants
8 slices of bacon
2 2/3 tbsp of raw cane sugar
8 oz of ground breakfast sausage
1 red bell pepper
1 jalapeño
1 onion
1 cup of grated monterey jack cheese
4 eggs
chives
---
Tools
Slotted spoon
Parchment paper
---
Step 1/3
Carefully slice the top off of 4 croissants and hollow out the bottom half of each halved croissant. Save the scooped out croissant. Slice the croissant tops in half length-wise. Wrap a slice of bacon securely around each croissant stick. Lightly but evenly coat each piece of wrapped bacon with about 1 tsp raw cane sugar, then place each onto the baking sheet.
Step 2/3
Heat the ground sausage over medium heat in a frying pan and cook until no pink remains. Add the diced red bell pepper and diced jalapeño and cook for about 3 minutes. Add the diced onion and saved scooped-out croissant and continuing cooking this mixture until the onions become translucent and the sausage slightly browns but does not burn. Fill each croissant bottom with the sausage mixture. Top each with monterey jack cheese. Then place the stuffed croissants on a baking sheet. Bake the stuffed croissants for about 7 minutes at 325 °F and bake the croissant sticks for about 10 minutes at 325 °F or until the bacon is fully cooked.
Step 3/3
Heat a frying pan over medium heat and crack an egg into a small bowl. Then pour the egg through the slotted spoon into the pan so that only the egg whites enter the pan, forming a crepe-like shape with the whites. Next add the yolk to the center of the egg whites and carefully fold the each side of the egg whites up over the yolks, one at a time, to form a square pocket shape. Remove the cooked eggs from the heat with a spatula. Repeat with the remaining eggs. Once the stuffed croissants are cooked, remove from the oven and place on a serving dish. Add one egg square to the top of each stuffed croissant and top with chopped chives. Enjoy!