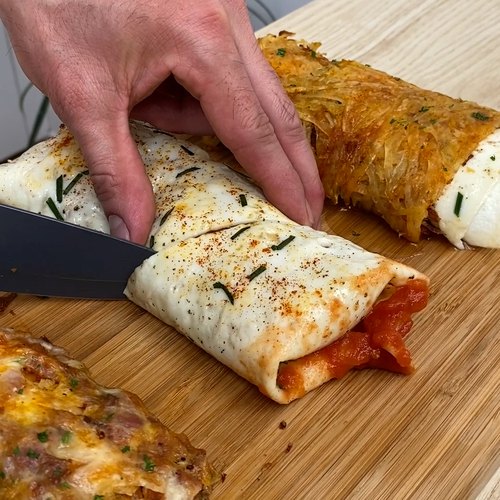 Breakfast on a Stick
Hashbrowns, eggs, bacon, cheese... what's not to love?! 😍🥓🍳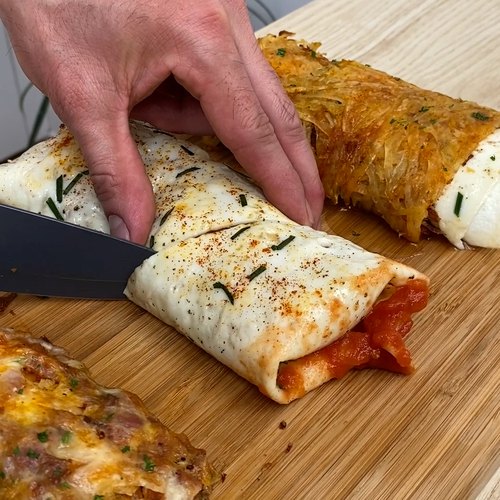 ---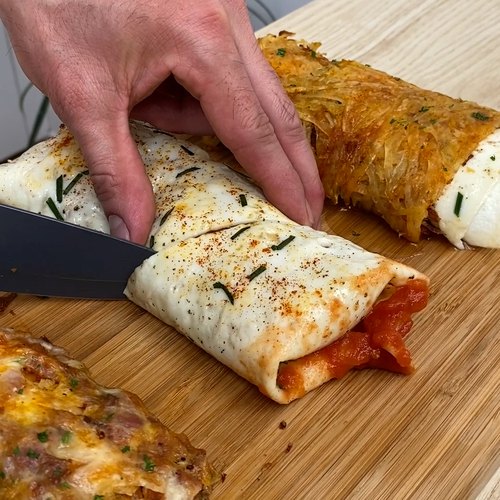 ---
Ingredients for 3 people
2 large potatoes
1 tsp of paprika
1 tsp of smoked garlic powder
3 tbsp of melted butter
salt & pepper
6 eggs, divided
chives
4 slices of bacon
2/3 cup of grated cheddar and mozzarella cheese
maple syrup
salsa
parsley
---
Tools
Clean dish towel
Parchment paper
Chopsticks
Electric griddle
Pipette
---
Step 1/4
Grate the peeled potatoes into a bowl of cold water to remove the starch. Drain the water, place in a clean dish towel, and squeeze dry. In a bowl with the grated potatoes, add in the smoked garlic powder, paprika, melted butter, salt, and pepper and place on a parchment lined baking sheet. Spread out well and bake for 15 minutes at 375 °F.
Step 2/4
Prepare the eggs on a stick by placing a chopstick on a hot frying pan or griddle. Pour the two egg yolks onto the chopstick and then cover with a lid and add in a small amount of water using a pipette. Repeat twice and set aside for later.
Step 3/4
Meanwhile, in a frying pan, make 3 egg white omelets with 2 egg whites per omelet and sprinkle with chives. Set aside. Cook 4 slices of bacon and chop into bits. Set aside.
Step 4/4
Remove the hashbrowns from the oven and cut crosswise into three large sections. Place a generous handful of mozzarella and cheddar cheese onto the griddle with bacon bits and let cook until crispy around the edges. Then add in one of the egg yolk sticks and fold over the cheese. Next, wrap in an egg white omelet and a section of hash browns, return to the griddle, and set aside. For the next stick, wrap the egg yolks in a section of hash browns, a layer of bacon and cheese, and an egg white omelet. Return momentarily to the griddle and set aside. Lastly, wrap the egg yolks in the egg white omelet, the hash browns, and the cheese and bacon mix. Sprinkle with parsley and set aside. Serve with your favorite condiments and enjoy!