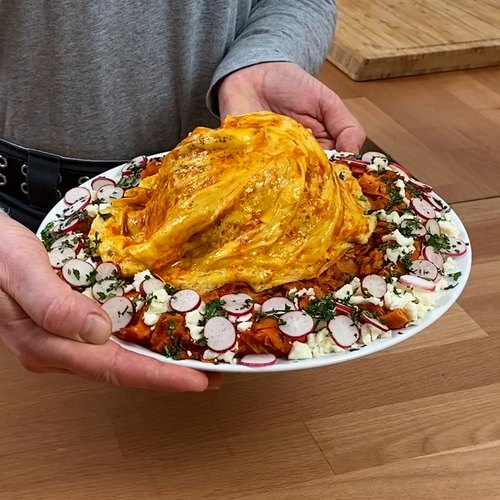 Chilaquiles Mountain
The ultimate breakfast feast 😍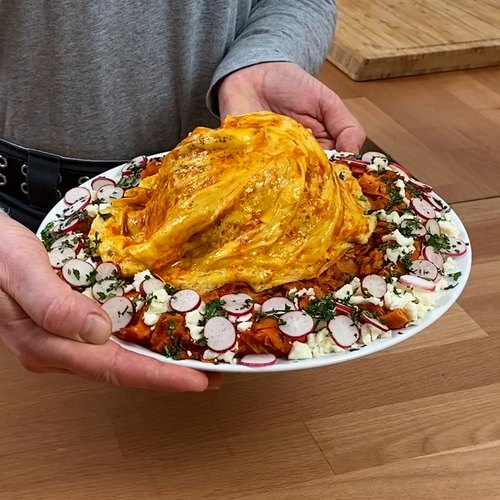 ---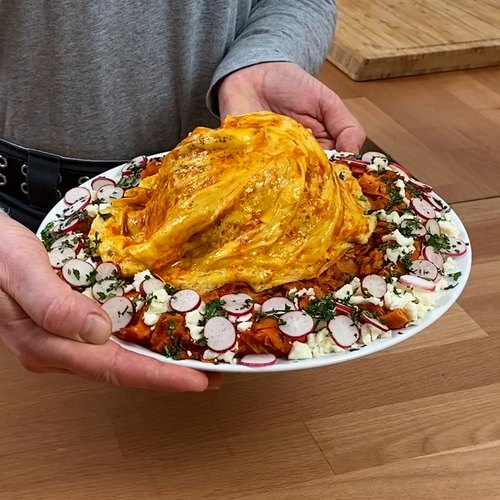 ---
Ingredients for 2 people
20 corn tortillas (6 inch)
sunflower oil
salt & pepper
1 tsp of olive oil
8 oz of cooked, shredded chicken
1/2 cup of salsa verde
3 3/4 cups of red enchilada sauce
6 eggs
hot sauce
1/3 cup of crumbled cotija
1/4 cup of sliced radishes
1 tbsp of cilantro
---
Tools
Paper towels
Small bowls
Chopsticks
---
Step 1/5
Cut the tortillas into thin tortilla strips. Fry the strips in sunflower oil at 350 °F in small batches and place them on paper towels. Salt to taste and set aside.
Step 2/5
Heat the shredded chicken in a frying pan with oil and pour in the salsa verde. Coat evenly and place the chicken into two small bowl, pressing it down well. Set aside.
Step 3/5
Meanwhile in a saucepan heat the red enchilada sauce and then add in the tortilla strips. Once coated, transfer the saucy strips onto 2 serving plates, dividing evenly. Then place the chicken mounds on top.
Step 4/5
Pour the 3 whisked eggs into a frying pan with vegetable oil over medium heat and sprinkle with salt and pepper to taste. Once the eggs have cooked slightly, take two chopsticks and pull the eggs toward the center and swirl as seen in the video. Once the eggs are fully cooked, place over one of the chicken mounds. Repeat a second time.
Step 5/5
Brush the eggs with hot sauce and garnish the plate with crumbled cotija cheese, sliced radishes, and cilantro. Serve and enjoy!