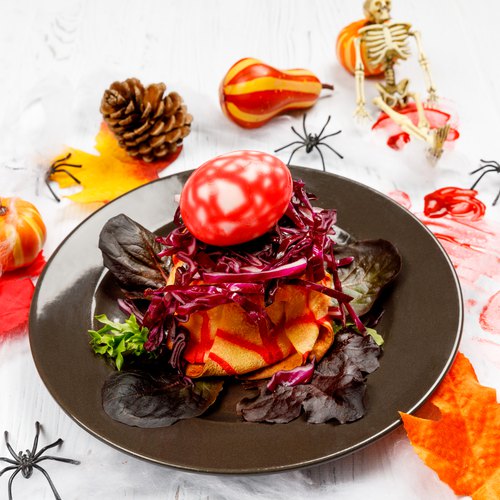 Creepy Cob Web Crepes
Because it's not Halloween without spiders 🕸🕷️🎃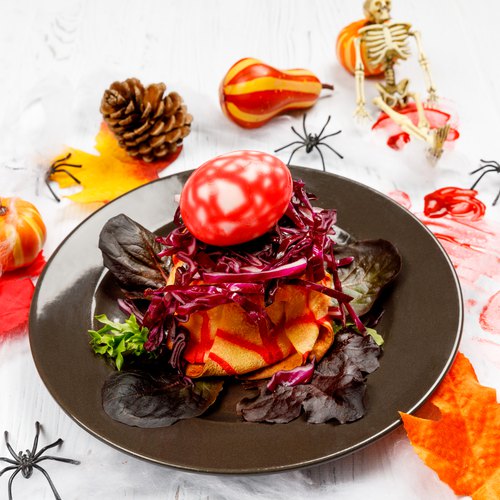 ---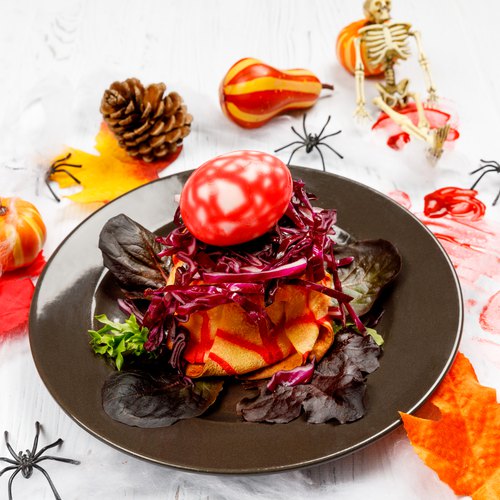 ---
Total time: 1 hour
Prep time: 15 minutes, Cook time: 15 minutes, Rest time: 30 minutes
Ingredients for 3 people
3 eggs
pancake batter
20 drops red food coloring
diced ham
shredded mozzarella
lettuce
red cabbage
olive oil
salt & pepper
---
Tools
Ketchup bottle
Small baking dishes
Pan
---
Step 1/3
First make the hard-boiled eggs, crack them immediately after boiling with a spoon, and plunge them in cold water colored in red, leave the eggs for at least 30 min in the cold.Then take some pancake batter and add red coloring, pour into a clean ketchup bottle. In a heated pan, draw a spider's web with the red batter, then pour in the plain batter, sauté the crepe. Repeat 3 times for 3 crepes.
Step 2/3
Next grease the inside of three ramekins (small baking dishes). Slice the crepes and place one crepe in each small ramekin and fill them with ham and grated cheese. Fold over the crepe and bake at 350°F for about 10 to 15 minutes (unmould and iron for 5 minutes).
Step 3/3
Prepare the garnish with the grated red cabbage salad (olive oil and salt and pepper), the green salad, and the tomato sauce. Put the cabbage and a peeled egg in the nest. Repeat 3 times and enjoy this spooky treat!