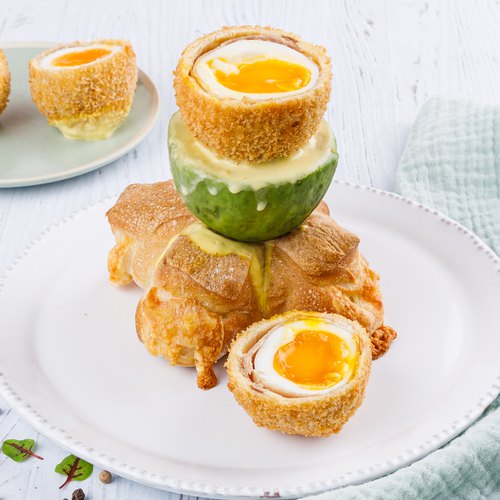 Crispy Hard Boiled Eggs
Crispy Hard Boiled Eggs! Avo nice day with this great recipe 😋🍳🥑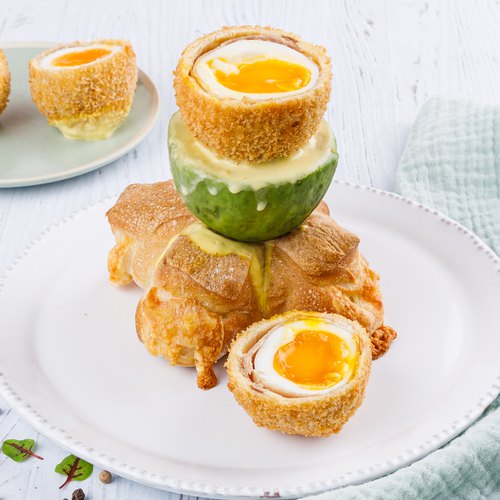 ---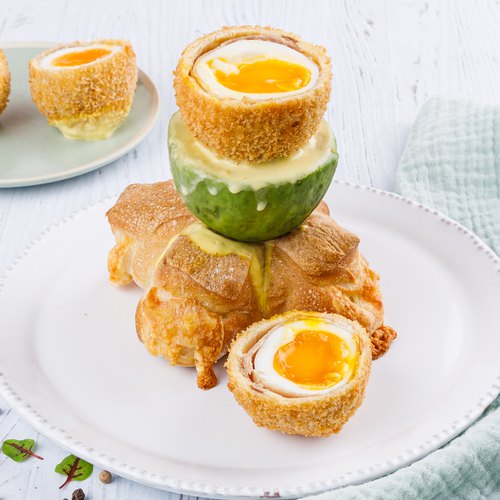 ---
Total time: 2 hours 30 minutes
Prep time: 45 minutes, Cook time: 25 minutes, Rest time: 1 hour 20 minutes
Ingredients for 3 people
1 1/2 cups of flour
1 tsp of salt
1 tsp of yeast
1 tsp of olive oil
3 eggs
3 slices of ham
2 egg yolks
1.7 cups of breadcrumbs
2 slices of emmental cheese
2 avocados
4 tbsp of hollandaise sauce
---
Step 1/4
Mix 1.25 cup of flour, salt and yeast in a bowl. Add 0.4 cup of warm water and olive oil then mix until you obtain a smooth dough. Let the dough rise at room temperature for 1 hour. Separate the dough into 3 parts and let the dough rise at room temperature for 20 minutes and set aside.
Step 2/4
Cook 3 eggs in boiling water for 10 minutes to obtain hard-boiled eggs. Peel the hard-boiled eggs and wrap the ham around the eggs. Sprinkle them with flour and dip them in the beaten eggs followed by the breadcrumbs. Fry them in hot oil.
Step 3/4
Cut 4 notches in the balls of bread dough to form petals then cut the petals in 2 horizontally. Layer 2 slices of emmental, cut them into strips then into small squares. Place the squares of emmental in the incisions horizontally. Place the filled bread dough flowers on a baking tray and press in the center to form the center of the flower. Bake for 15 minutes at 390°F.
Step 4/4
Arrange the bread flowers each on a plate. Cut the avocados in 2. Remove the pit, rinse them in lemon water, drain them and place them in the center of the flowers. Pour the hollandaise sauce into the avocados and place the fried eggs. Cut them in 2 horizontally and enjoy!