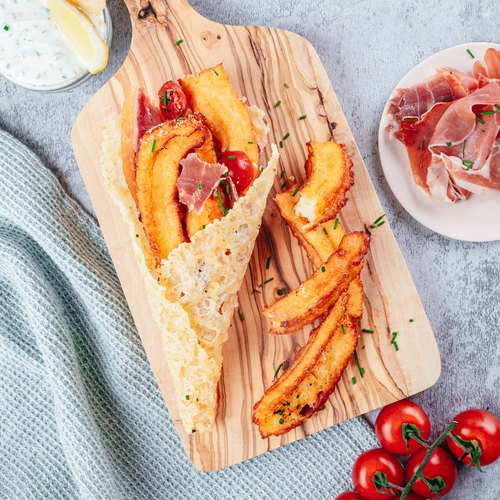 Churro Appetizer Cone
The perfect savory treat 😉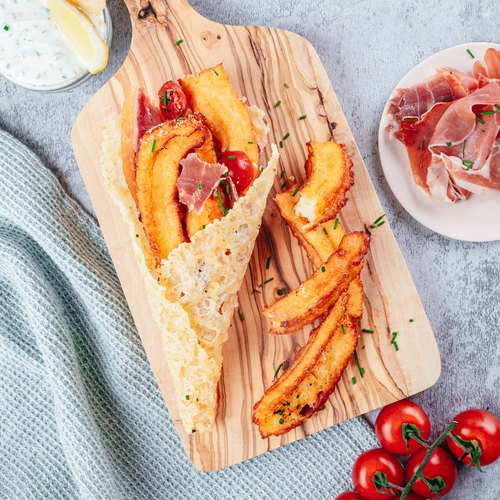 ---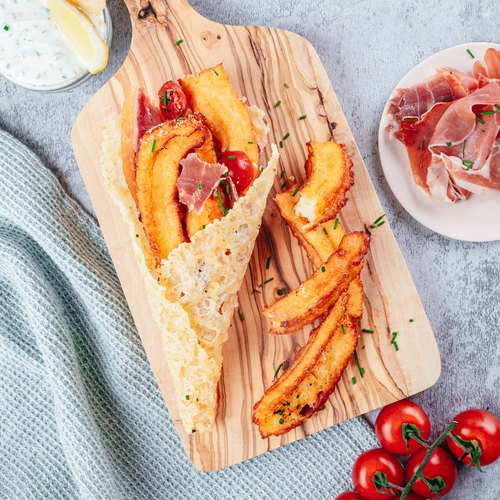 ---
Total time: 50 minutes
Prep time: 30 minutes, Cook time: 20 minutes
Ingredients for 3 people
1 pringles can
3 1/2 oz of parmesan
Chives
1 lemon
4 plain yogurts
2 slices of ham
1 3/4 cups of potatoes
3 egg
2 tbsp of cornstarch
6 tbsp of flour
Salt & pepper
Frying oil
Cumin
Paprika
Parsley
Cherry tomatoes
---
Tools
Aluminum foil
Skewers
Tube of chips
Rolling pin or metal rod
---
Step 1/3
Peel and steam the potatoes. Drain, mash the potatoes, then add the eggs, cornstarch, flour and a pinch of salt. Mix to obtain until smooth. Punch holes in the aluminum part of the tube of chips and fill the tube with the mixture. Insert a lemon, push the dough with the rolling pin to form churros, fry them in a pan of hot oil before draining them.
Step 2/3
Cut the slices of ham in 2 and wrap one slice around a skewer before inserting the skewer into a churro. Repeat the process to obtain 4 churros and remove the skewers before setting aside on a plate. Gratinate the grated Parmesan with cumin, paprika, and chopped chives to obtain 3 Parmesan chips.
Step 3/3
Pour the yogurts into a bowl, squeeze the lemon and grate the skin, then add the lemon juice and lemon zest to the yogurts. Season with salt, chopped parsley and chives, then mix everything. Form a cone with aluminum foil, wrap with each Parmesan chip, then unmold the cone to create 3 Parmesan cones. Arrange the cones horizontally in a container, fill them with churros, add cherry tomatoes, ham in pieces and sprinkle with herbs and grated Parmesan. Serve with the sauce and enjoy!