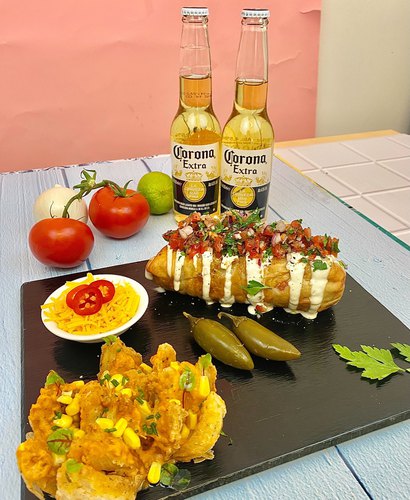 Bacon Chimichanga & Bloomin' Onion
Bacon Chimichanga & Bloomin' Onion! This recipe is un-grill-ievable 😮♨️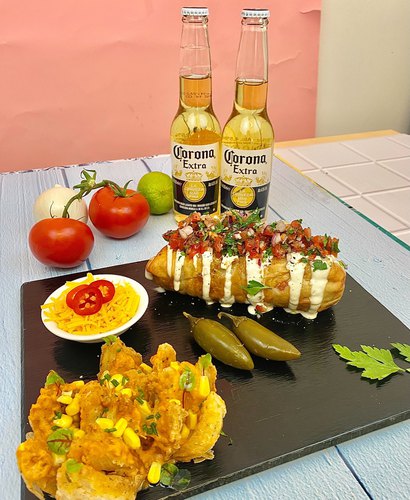 ---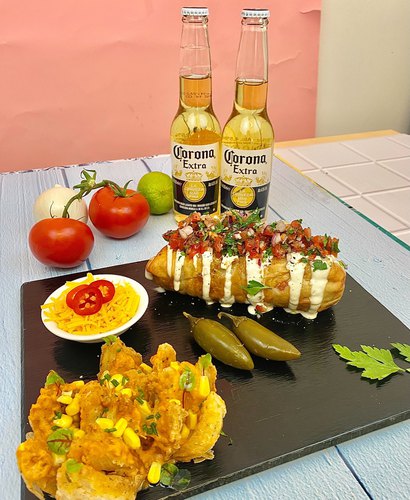 ---
Total time: 50 minutes
Prep time: 10 minutes, Cook time: 40 minutes
Ingredients for 4 people
2 egg
1 cup of milk
2 cups of flour
3 tbsp of paprika
1 tbsp of cumin
1 tbsp of oregano
1 tsp of thyme
2 tsp of salt
1 tsp of cayenne pepper
1/2 tsp of pepper
2 1/2 tbsp of garlic powder
4 onions
Vegetable oil
3/4 lb of ground beef
1 gouda cheese
2 packages of bacon
1 tbsp of herbs de provence
2 onions, chopped
Bbq sauce
1 can of refried beans
0.3 cup of rice
2 tbsp of mozzarella
---
Tools
Rolling pin or metal rod
parchment paper
Pastry brush
---
Step 1/4
Start by cutting the onions. Cut a small flat spot on the none root end of the onion. Remove any dried or damaged peels. Place the onion flat side down on a cutting board (root side up). Now using a sharp knife starting about 1/2 inch from the root make a clean slice downward. Next turn the onion one quarter turn and make another clean slice downward. Follow that with two more quarter turns and two more clean slices downward.
Step 2/4
In a large bowl whisk together the milk and eggs. Then in another large bowl combine the flour, 1 tbsp of paprika, cumin, oregano, thyme, 1 tsp of salt, cayenne pepper, black pepper and 1/2 tbsp of garlic powder. Put one of the cut onions in the flour mixture. Using your hands coat the onion with the flour mixture spreading and separating the onion to make sure that it all gets breaded. Now dunk the onion into the egg mixture. Then back into the flour mixture. Heat the oil to 375°F. Carefully place the onion root side up in the hot oil. Fry for about 6 minutes or until golden brown. Remove from oil and place on paper towel.
Step 3/4
In a bowl add the ground beef and the chopped onions. Add spices and mix. Set aside. Take the parchment paper and lay down on a flat surface. Shape 4-5 oz round hamburger shaped balls. Take another sheet of parchment paper and place on top of meat. Use your rolling pin to flatten the meat. Remove the top layer of parchment paper and cut a square out of your flattened meat. You can add a slice out of you block of cheese and place it on your meat. Roll it over until the cheese is fully wrapped in the ground beef. Take some bacon and roll your meat in it so it is fully wrapped. It should look like a bacon burrito. Lay bacon bombs on bbq grill or smoker and cook on 275°F for 30 minutes. Flip to other side to make sure it is cooked. When cooked, you can brush on some bbq sauce.
Step 4/4
Add the bacon bomb to the tortilla. Add refried beans, cheese and rice. Tightly fold and roll over to secure burrito shape. Add to oil at 375°F and fry for 3-4 mins or until golden brown. Serve with blooming onion and enjoy!