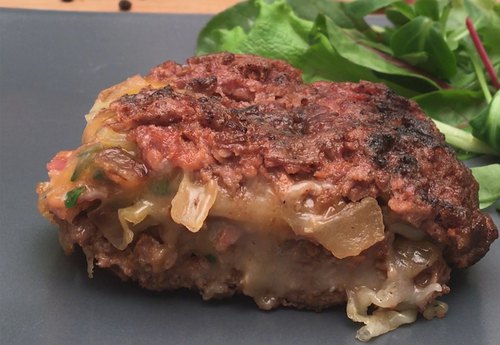 The XXL Burger
Only professional burger lovers need apply for this one ;)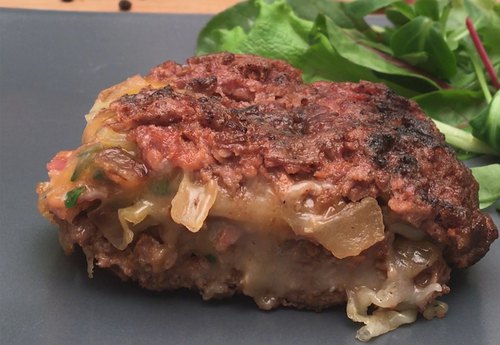 ---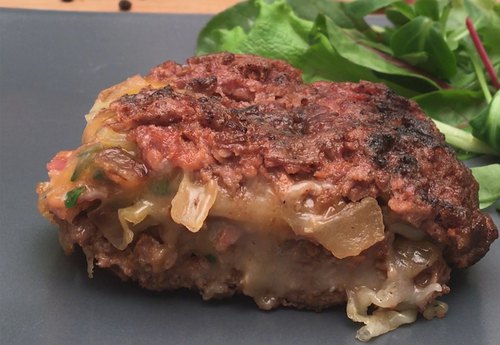 ---
Ingredients for 6 people
20 slices of bacon
1 3/4 lbs of ground beef
2 onions, chopped
1 1/3 cups of mozzarella, grated
1 1/3 cups of cheddar, grated
2 baguettes
parsley
paprika
salt & pepper
---
Tools
Parchment paper
---
Step 1/4
Weave the bacon and cut it into a disc shape. Bake for 10 minutes at 350 °F.
Step 2/4
Season the ground beef with paprika, salt, and pepper and spread it into 2 similarly-sized discs on a sheet of parchment paper.
Step 3/4
Sauté the chopped onions. Spread a first layer of onion on one of the meat disc. Do the same with the mozzarella, cheddar cheese, and parsley. Place the bacon weave on top and then spread another layer of onions, mozzarella, cheddar, and parsley.
Step 4/4
Place the second meat disc on top. Seal the edges to make a burger and sear for about 5 minutes on each side in a skillet over high heat. Cut into 6 and enjoy in sandwiches with tomatoes and lettuce.