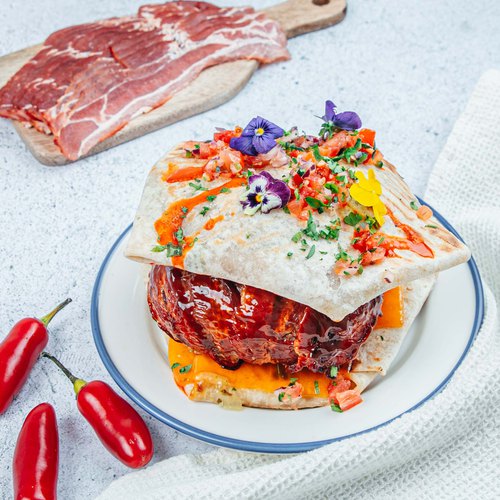 Supreme Wrap Burger
Supreme Wrap Burger! An explosion of flavor guaranteed 😉🍔🌮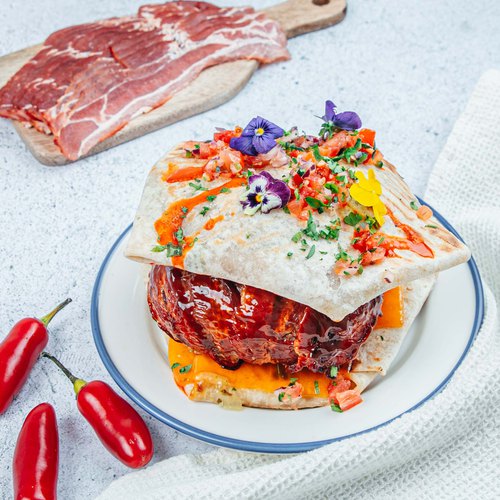 ---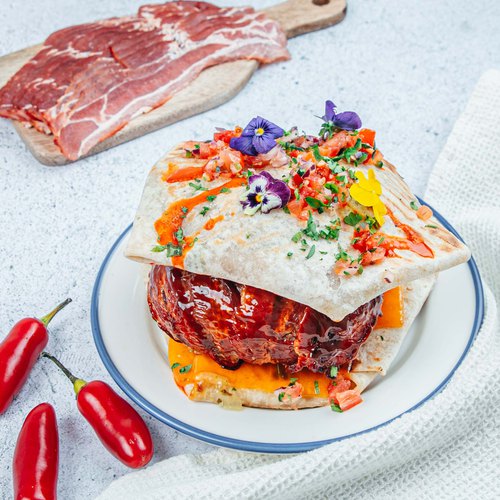 ---
Total time: 35 minutes
Prep time: 5 minutes, Cook time: 30 minutes
Ingredients for 6 people
2 1/2 lbs of chuck steak
Mozzarella
12 slices of bacon
Cheddar slices
1 1/2 lbs of tomatillos
1 1/2 cups of onions
Garlic
1 cup of cilantro
2 limes
5 jalapeños
Salt
2 cups of jack cheese
1 cup of black beans
2 cups of bell peppers
1 cup of red onion
4 tomatoes
12 tortillas
Bbq sauce
---
Step 1/4
Cut the chuck steak into thick slices. Mash the meat with a knife to creat a ground beef consistency. Shape your beef into 3 large patties and make a hole in the middle to insert your cheese of choice. Cover the 3 patties with the leftover ground meat. You will have 3 stuffed burgers. Wrap the burgers with bacon and bake at 300°F for 15-20 minutes. Add cheddar slices on top of burger if desired. Brush with BBQ sauce. Place burgers onf the grill to caramelize the sauce, 2 to 3 minutes. Top the burgers with cheddar and cover with a lid for 30-60 seconds. Remove burgers from grill.
Step 2/4
Preheat the broiler on low. Place tomatillos on rack for 5-7 minutes to lightly blacken the skins. In the meantime, prep the tomatillos by removing the husks. Cut the tomatillos in half and place cut side down on a foil-lined baking sheet. Add a few garlic cloves in their skin. Place the cooked tomatillos, lime juice, onions, garlic, cilantro, chili peppers in a blender and pulse until all ingredients are finely chopped. Season with salt to taste. Set aside.
Step 3/4
Combine tomatoes, white onion, jalapeño, cilantro and lime for the pico de gallo. Lay out 12 tortillas and add the cheese, black beans, peppers and red onions over one half of the tortillas. Fold over each tortilla individually, to make a half-moon shape. Heat a large skillet over medium heat. Drizzle with oil to just coat the bottom of pan. Cook each quesadilla until browned on both sides and cheese is melted.
Step 4/4
You will take two tortillas per burger using one for the top and one for the bottom of your bun. You can add some cheddar cheese as a first layer and then add your burger to the middle. Top with salsa verde. Once you have the top layer of your burger, top with pico de gallo and enjoy!