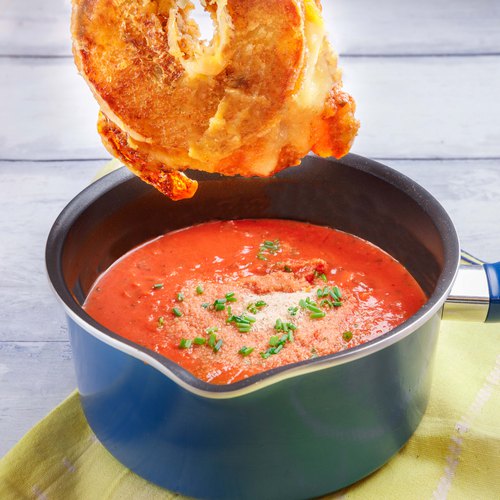 Hanging Grilled Cheese Donuts
Ready to dive in the tomato soup :)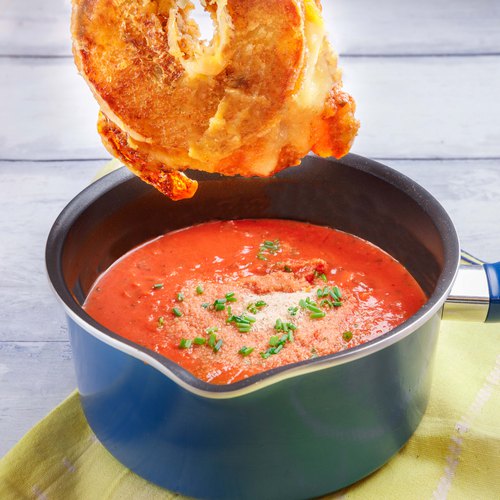 ---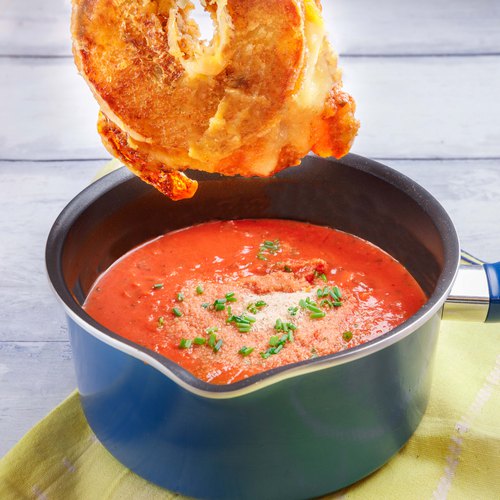 ---
Total time: 35 minutes
Prep time: 35 minutes
Ingredients for 4 people
5 slices of bacon
3 cups of powdered sugar
2 tsp of vanilla extract
1/4 cup of milk
3 donuts
3 onions
8 cups of tomato soup
12 slices of cheddar
1 cup of shredded mozzarella
1 cup of breadcrumbs
1 tbsp of chives
1/4 cup of butter
---
Tools
Loaf pan
Metal hangers
---
Step 1/4
Grill the bacon and set to the side to cool down. Next, in the mixing bowl add the powdered sugar, milk, and vanilla extract. Mix and pour into a loaf bread pan. Loop 3 donuts onto a spoon and place between two glasses with a baking dish below. Pour the glaze over the donuts and turn the donuts until they are completely coated. Cut the bacon slices into bits and place them around the top of the donuts. Then let chill in the fridge for 20 minutes.
Step 2/4
Construct your hanging tree: Cut the bottom off of three onions so that they rest flat on a surface. Next, cut a slit on the tops of the onions and insert the metal clothes hangers in the onion, facing upwards, as seen in the video. Set to the side.
Step 3/4
Prepare your favorite tomato soup (homemade, store-bought, or from your favorite restaurant) and heat it up in a sauce pan. Meanwhile, cut the donuts in half and place the donut halves open-face down on an electric griddle or frying pan over medium heat with butter. Place 2 slices of cheddar on top of each donut half and a generous pinch of mozzarella on top of 3 donut halves. Let brown, then flip the cheddar-only donut halves on top of the other donut halves and press down. Twist the hanger handles 45 degrees to the side, then place each donut on one of the hanger handles.
Step 4/4
Place the heated tomato soup beneath the hangers and grilled cheese and garnish with bread crumbs and chopped chives. Dip the grilled cheese in the soup and enjoy!