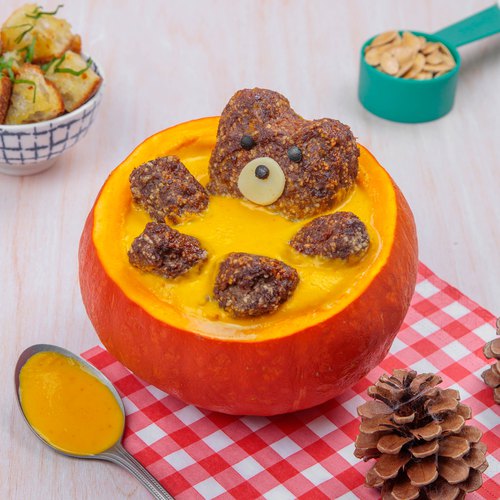 Pumpkin Jacuzzi
Pumpkin Jacuzzi! Relax & unwind with this recipe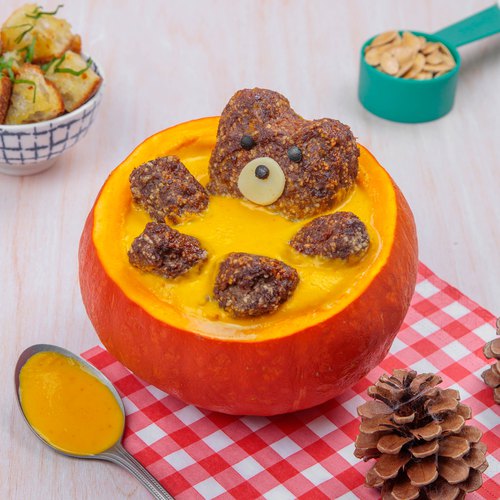 ---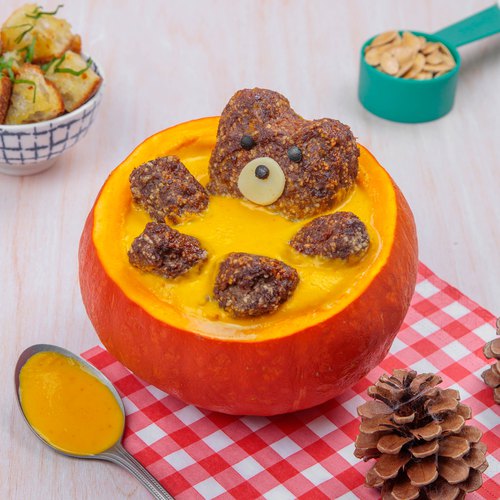 ---
Total time: 1 hour 30 minutes
Prep time: 30 minutes, Cook time: 1 hour
Ingredients for 4 people
1 pumpkin
1/2 cup of onion
4 tbsp of heavy cream
3/4 cup of ground beef
5 tbsp of breadcrumbs
1 egg
1 tsp of olive oil
1 slice of cheese
Croutons
Salt
---
Tools
Aluminum foil
parchment paper
Immersion blender
---
Step 1/3
Remove the cap of the pumpkin, remove the seeds, hollow out the inside, and cut the cap into pieces. Pour the flesh and cap into a saucepan, add 1 pig of chopped onion, 1 chef of water and a pinch of salt, then cook for 15 minutes. Wrap the pumpkin bowl in aluminum foil and bake for 40 minutes at 350°F. Once the soup is cooked, blend it with 1 mouse of heavy cream using an immersion blender.
Step 2/3
In a bowl, mix 3 pigs of ground beef, 1 egg, 1 mouse of breadcrumbs, and a pinch of salt with your hands. Form the body of the bear with 2 cat cups of the mixture, then roll 10 balls and 2 logs using the hen cup. Cook them in a pan with 1 chick of olive oil.
Step 3/3
Place 8 balls at the bottom of the pumpkin, pour in the soup, then place the body of the bear, the 2 logs for its front legs, and the remaining 2 balls for its hind legs. Form its face by cutting out 2 small disks for its eyes, ½ an olive for its nose, and a disk of cheese for its mouth. Add croutons to the soup, serve, and enjoy!