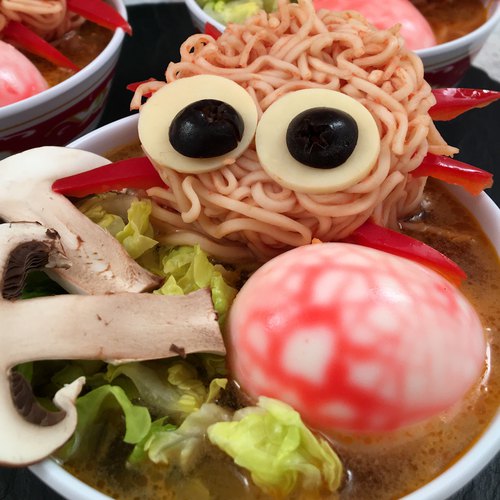 Creepy-Crawly Ramen!
Don't be scared kids, this soup is fun to make AND eat!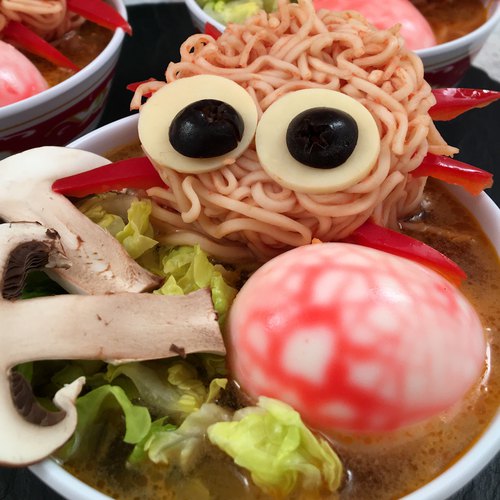 ---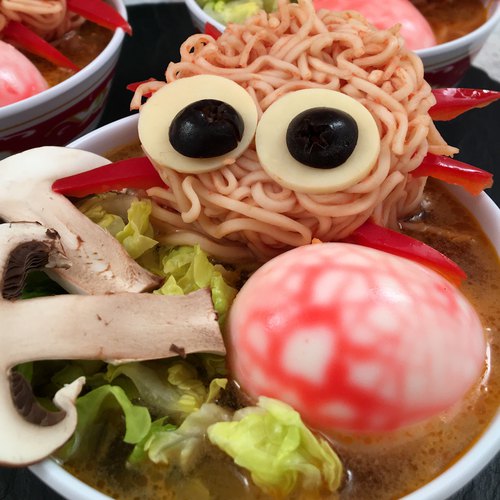 ---
Ingredients for 4 people
1 tbsp of olive oil
2 garlic cloves
2 shallots
1/4 lb of ground beef
1 tbsp of ginger, chopped
1 tbsp of salt
1 tbsp of hoisin sauce
1 tbsp of miso paste
5 cups of water
ramen noodles
3 hard boiled eggs
1/3 cup of tomato sauce
cabbage
mushrooms
---
Step 1/4
Add 1 hen of oil to a sauce pan over medium heat, then add 1 hen of chopped garlic, 1 hen of chopped shallots, 1 hen of chopped ginger and cook for 1 minutes. Mix in 1 chef of ground beef, 1 chick of salt, 1 hen of hoisin sauce, and 1 hen of miso paste. Cook until the meat is cooked. Add 2 chefs of beef broth. Cook until it begins to boil.
Step 2/4
Add red coloring to 3 chefs cold water. Crack the hard boiled eggs with a spoon, but do not remove the shell. Put the eggs with the shell still attached in the red water. Let sit for 15 minutes, then peel the shell off the eggs.
Step 3/4
Mix 1 cat of tomato sauce to 2 chefs of cooked ramen noodles. Place the noodles in the measuring cups to form circles. Use the hen to cut out circles from the cheese. Place on the ramen circles with sliced black olives to form eyes. Use 8 slices of red bell pepper to form legs.
Step 4/4
Place a bit of extra noodles in the soup bowl, then add soup. Add cabbage and mushrooms along with the eggs and spiders. Enjoy!