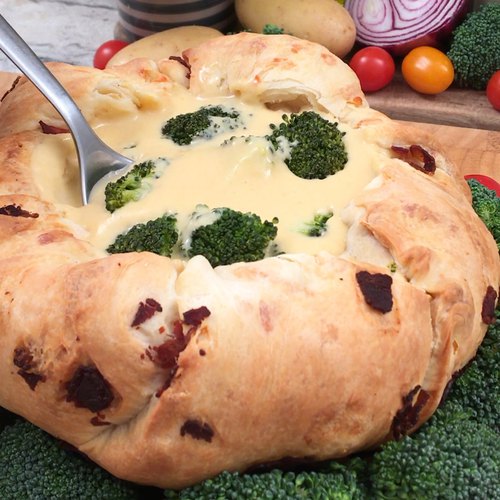 Broccoli Cheddar Soup
And it's edible grilled cheese bowl. 🥦🧀🥣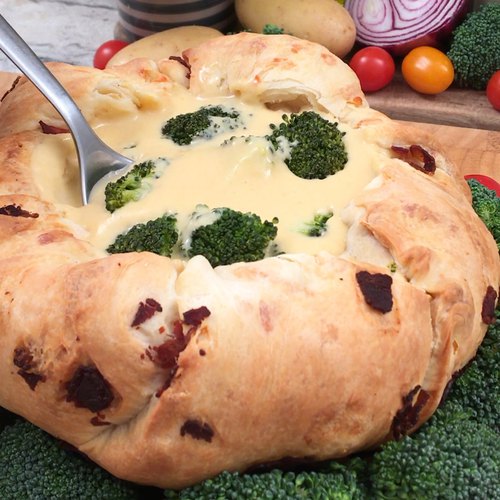 ---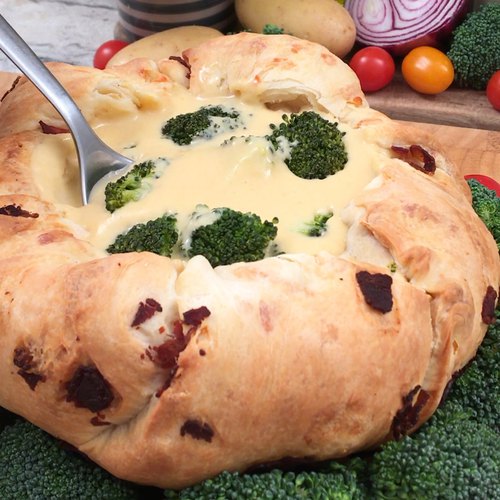 ---
Ingredients for 2 people
1 broccoli
pizza dough
3 cups of cheddar cheese, divided
2 potatoes, cubed
2 cups of chicken stock
1 onion, chopped
7 slices of bacon, cooked and chopped
olive oil
---
Tools
Immersion blender
Rolling pin
Kitchen shears
---
Step 1/3
Placed cooked and crumbled bacon onto pizza dough and roll in. Turn pizza dough over and cover with cheddar cheese, then add second pizza dough and roll to seal. Place whole head of broccoli into the center and pull the dough up around the sides, leaving the steam out. Bake for 20 minutes at 350 °F.
Step 2/3
In a skillet, cook onion until translucent, add 2 cups of water and the chicken stock, bring to a boil and add potatoes and remaining shredded cheddar cheese. Stir and then blend with a hand immersion blender until soup is uniform and smooth.
Step 3/3
Once broccoli is out of oven, remove stem then cut the remaining broccoli florets with kitchen shears. Pour cheese soup into the pizza dough shell to cover the broccoli florets, stir to combine and enjoy!