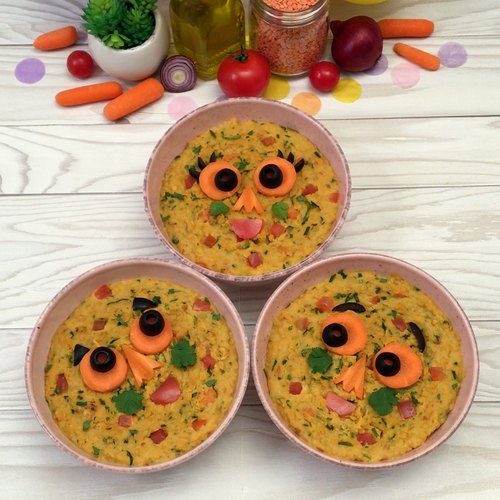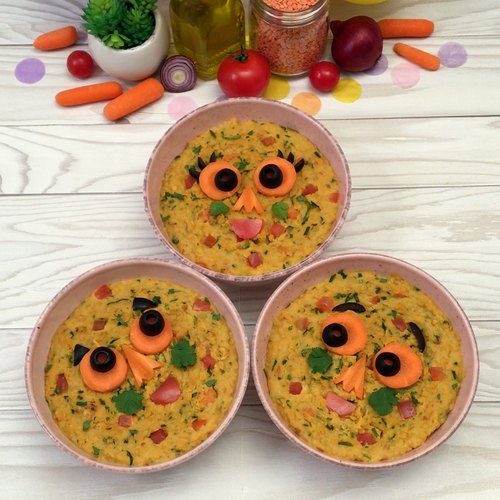 ---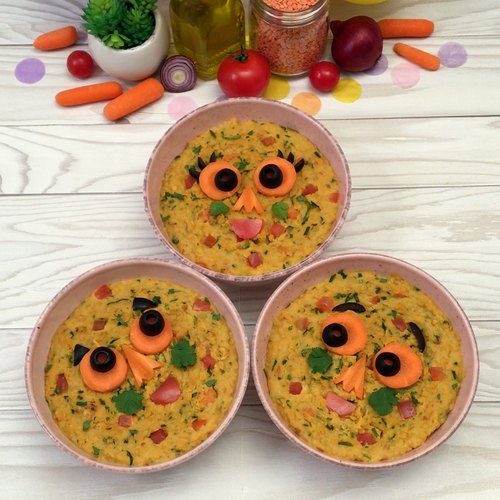 ---
Total time: 40 minutes
Prep time: 15 minutes, Cook time: 25 minutes
Ingredients for 6 people
1/4 cup of olive oil
1/2 onion
2 carrots
1 tsp of curry powder
1 tsp of cumin
1 tsp of turmeric
4 tomatoes
3 cups of red lentils
1 cup of coconut milk
cilantro
salt
3 black olives
---
Step 1/4
Heat 1 mouse of olive oil in a saucepan with 1 pig of chopped onion and 1 pig of diced carrot, until the onions become translucent.
Step 2/4
Add salt, 1 chick of curry powder, 1 chick of cumin, 1 chick of turmeric, 1 chef of diced tomato, and 3 chefs of red lentils, and cook until the tomatoes soften.
Step 3/4
Add 5 chefs of water. Cook for 15 minutes until the water is absorbed. Take it off the heat and add 1 chef of coconut milk and 1 mouse of chopped cilantro.
Step 4/4
Serve the dhal in 3 bowls. Cut out 3 mouths from the remaining half tomato, and place them in the middle of each bowl. Cut 6 little circles and 3 noses out of the remaining carrot and place them in the bowls. Finish off the eyes with halved black olives, create cheeks with cilantro leaves, and enjoy.