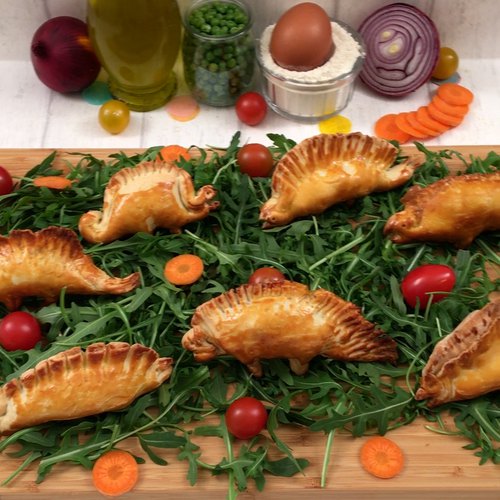 Argentinian empanadas
Dinosaurs to munch on, for carnivores and vegetarians!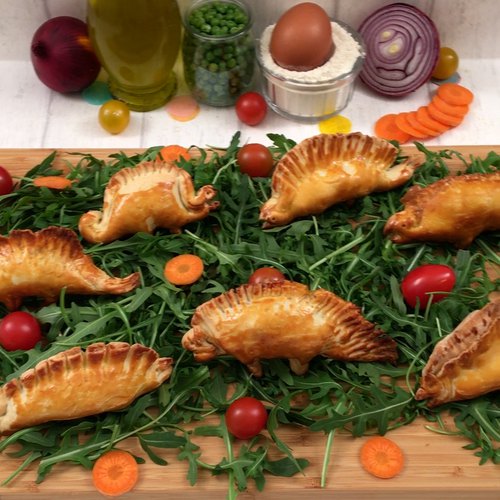 ---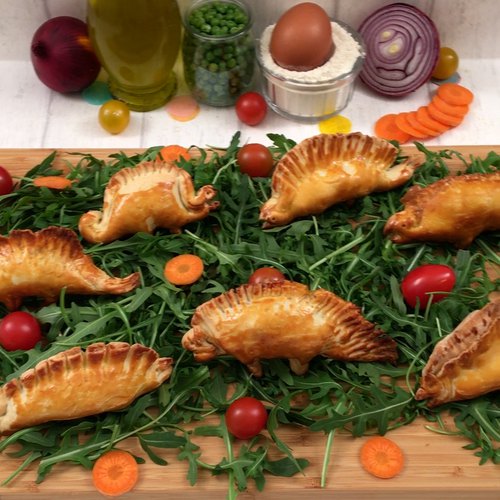 ---
Total time: 2 hours 5 minutes
Prep time: 45 minutes, Cook time: 50 minutes, Rest time: 30 minutes
Ingredients for 20 people
1/2 lb of ground beef
1/2 onion
2 tbsp of olive oil
1 pinch of powdered sugar
0.3 cup of tomato sauce
1/4 cup of raisins
1 cup of beef bouillon
1 potato
2 carrots
1/2 cup of frozen peas
2 cups of flour
1 cup of butter
3 eggs
0.3 cup of milk
salt
---
Tools
Rolling pin or metal rod
Parchment sheet
---
Step 1/3
Heat 1 chick of olive oil in a frying pan and add in 1 pig of finely chopped onions and 1 chef of ground beef. Add a pinch of salt and a pinch of powdered sugar. Next, add 1 cat of tomato sauce, 1 mouse of raisins, and 1 chef of beef bouillon. Bring to a simmer, then chill for 30 minutes to let the liquid absorb. Heat 1 chick of olive oil in a frying pan and cook 1 mouse of diced potatoes, 1 pig and 1 cat of diced carrots, and 1 mouse of peas, with a pinch of salt.
Step 2/3
Mix together 2 chefs of flour, 1 chick of salt, 1 chef of softened butter, 1 egg, and 1 cat of milk, and knead into a smooth, uniform dough. Add a little extra flour if needed. Divide the dough into 20 little balls. With the rolling pin, roll each ball into a disc. Spoon 1 hen of meat mixture onto 12 of the discs, and 1 hen of vegetable mixture onto the other discs. Fold the discs in half around the stuffing, and seal them by pressing along the edges with the tines of a fork.
Step 3/3
Make a split in one end of each empanada to create a dinosaur head, and mold the other ends into tails. Pinch the bottoms of the empanadas to create the feet. Place the dinosaurs you've created onto a baking sheet lined with parchment paper. Brush them with egg yolk and put in the oven for 15 minutes at 350°F. Take out of the oven and enjoy your dinosaurs!