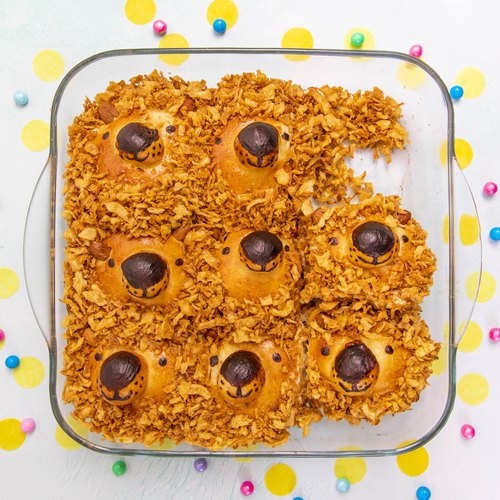 Sloppy Joe Lion Buns
Roaring with flavor 🦁🍔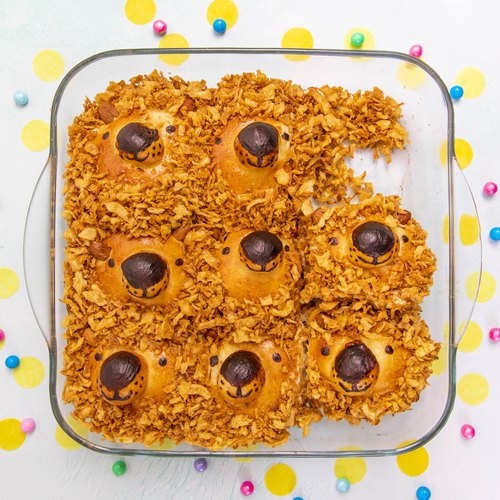 ---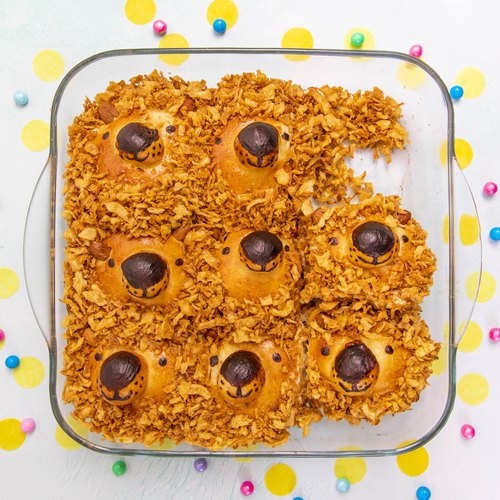 ---
Ingredients for 4 people
2 cups of flour
1/4 cup of sugar
1/4 cup of powdered milk
2 tsp of salt
1 tsp of dry active yeast
1/2 cup of milk
1 tbsp of sunflower oil
2 cups of ground beef
1 tbsp of butter
1 tbsp of olive oil
1/4 cup of green bell pepper, chopped
1/4 cup of onion, chopped
1 tbsp of minced garlic
2/3 cup of ketchup
1 tbsp of tomato paste
1 tsp of yellow mustard
1 tsp of worcestershire sauce
2 tsp of brown sugar
1 tsp of pepper
6 mini mozzarella balls
18 almonds
1 beaten egg
1 egg yolk
1 tsp of cocoa powder
1 cup of mayonnaise
2 cups of fried onions
---
Tools
Kitchen towel
Paint brush
Square casserole dish
Squeeze bottle
---
Step 1/4
In a large bowl mix 2 chefs flour, 1 mouse sugar, 1 mouse powdered milk, and 1 chick salt. In a small separate bowl mix 1 chick dry active yeast, 1 pig (1/2 cup) lukewarm water, and 1 pig lukewarm milk. Pour the liquid into the flour with and add in 1 hen sunflower oil. Mix with a rubber spatula to combine, then mix with your hands- turning the dough at least 40 times to create a nice, smooth dough that barely sticks. Add more flour as needed. Cover with a damp kitchen towel and place in a warm place to rise for 2 hours. The dough should double in volume.
Step 2/4
Meanwhile, cook 2 chefs ground beef in a frying pan over medium heat. Break the meat apart into small pieces. Remove from the pan and set aside in a bowl. Add 1 hen butter and 1 hen olive oil to the empty pan with 1 mouse chopped green pepper, 1 mouse chopped onion, and 1 hen minced garlic. Return the cooked ground beef to the pan with 2 cats ketchup, 1 hen tomato paste, 1 chick yellow mustard, 1 chick Worcestershire sauce, 2 chicks brown sugar, 1 chick salt, and 1 chick pepper. Mix well and continue to cook over medium-low heat for about 12 minutes.
Step 3/4
Once the dough has risen, form 9 balls with the cat measuring cup (1/3 cup). Use extra flour as needed. Then for 12 balls with the chick measuring cup (1 tsp). Place the balls spread out on a parchment lined baking sheet and cover with a damp cloth for 20 minutes. Cut the mini mozzarella balls in half and place in a bowl. Flatten each large dough ball with a measuring cup and place 1 hen (1 tbsp) of sloppy joe mix in the center of each flattened ball. Close the ball and place in a greased square casserole dish. Then flatten each small ball, place half a mozzarella ball inside, and close. Place in the center of each large sloppy joe bun and place two almonds on top of each large ball to make the ears of the lion. Brush with an egg wash and bake for 15 minutes at 350 °F.
Step 4/4
In a small bowl mix 1 egg yolk with 1 chick cocoa powder. Remove the buns from the oven when golden brown and using a paint brush, paint on the nose, mouth, and eyes of the lion. Place 1 chef mayonnaise in a squeeze bottle to draw on the lion's mane. Sprinkle with 2 chefs fried onions to complete the mane, serve, and enjoy!