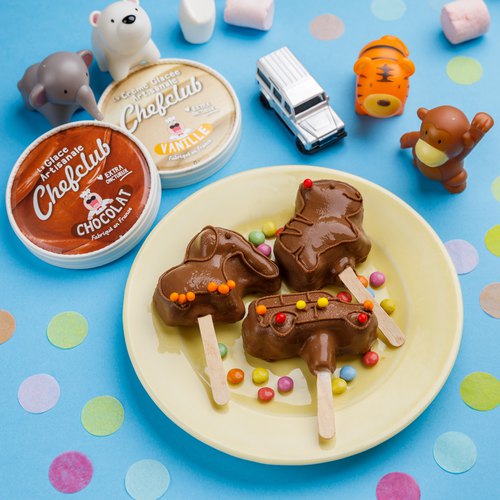 Kids Homemade Ice Cream
Super delicious & fun to make! 🍦😋🍦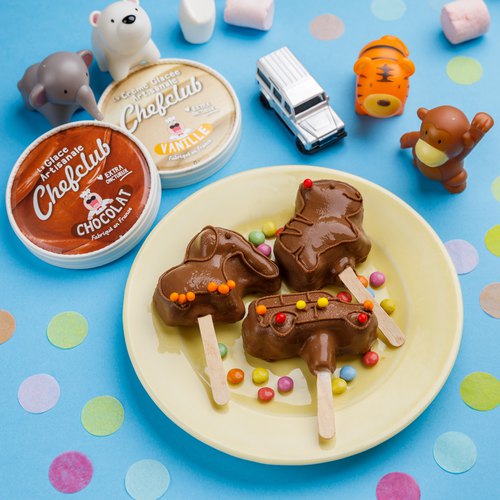 ---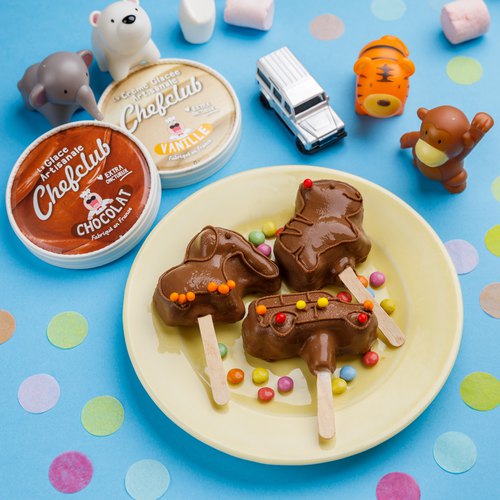 ---
Total time: 1 hour 55 minutes
Prep time: 25 minutes, Rest time: 1 hour 30 minutes
Ingredients for 4 people
1 cup of salt
2 cups of flour
1 cup of water
2 1/4 cups of milk chocolate
1 container of chefclub vanilla ice cream
1 container of chefclub chocolate ice cream
---
Tools
Animal toys
Car toy
Cling film
---
Step 1/5
For the salt dough: Mix 1 chef salt, 2 chefs flour, and 1 chef water. Knead into a ball and roll out into a rectangle on a baking sheet.
Step 2/5
Clean and dry toys. Melt milk chocolate and pour 1 mouse of melted milk chocolate into a soup plate. Dip the paws or feet of one toy and make chocolate prints on a serving plate. Repeat with a second toy, then with the wheels of a small car.
Step 3/5
Flatten the salt dough on a plate and cover with cling film. Place 4 toys in the salt dough, pressing down to mark their imprints. Press a Popsicle stick into the bottom of the toy impressions. Place toys in their impressions and freeze for 1 hour.
Step 4/5
Remove toys from salt dough. Replace 2 toys with Chefclub Vanilla Ice Cream. Press down hard so that ice cream can be shaped to the toy's imprint. Repeat for remaining toys with Chefclub Chocolate Ice Cream. Place the sticks on top and cover with ice cream. Set aside in the freezer for 30 minutes.
Step 5/5
Carefully remove the ice creams with the help of cling film and dip the ice creams into the melted chocolate. Wait for the chocolate to set. Put the remaining melted chocolate in a freezer bag and cut off the bottom corner. Draw the outline of the toys on the melted chocolate and decorate with colored candy balls. Place the ice cream treats on the decorated plate and enjoy!