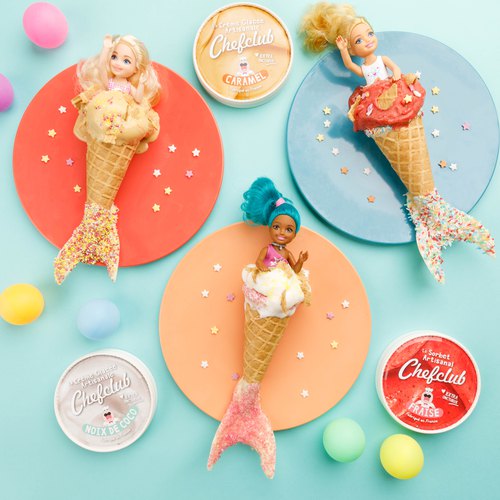 The Little Mermaid Ice Creams
The Little Mermaid Ice Creams! Kids love to decorate their own cones 🍦🧜‍♀️🧜‍♀️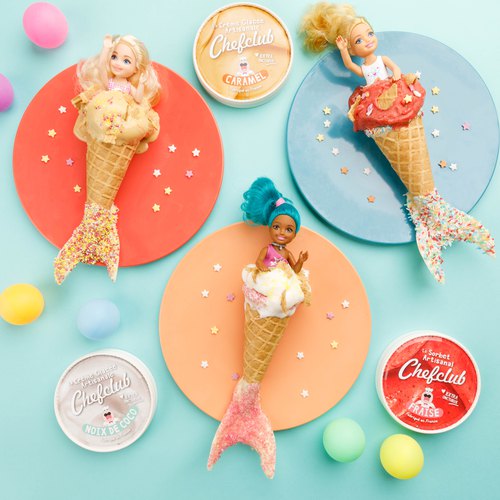 ---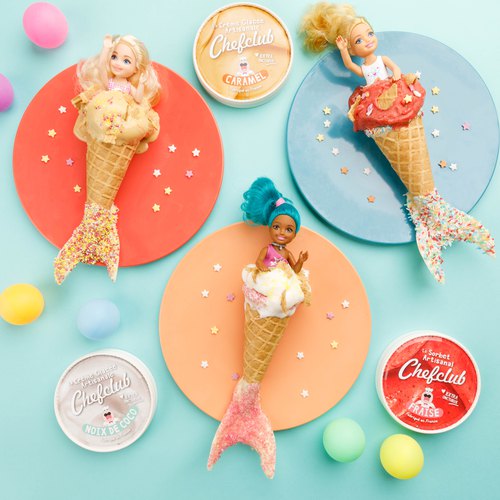 ---
Total time: 1 hour 30 minutes
Prep time: 30 minutes, Rest time: 1 hour
Ingredients for 3 people
6.2 oz of white chocolate
1 tbsp of sugar pearls
4 ice cream cones
1 tbsp of colored sugar
1 tbsp of sprinkles
1 container of chefclub coconut ice cream
1 container of chefclub caramel ice cream
1 container of chefclub strawberry sorbet
Sugar stars
---
Tools
Dolls
Plastic sheet protector
Cling wrap
---
Step 1/3
Rinse the dolls then wipe them with a clean towel. Wrap the dolls' legs in cling wrap. Place 1 chef of white chocolate 2x30 seconds in the microwave then dip the edges of the ice cream cones in the melted white chocolate. Arrange the cones on the baking tray. Cut a plastic sheet protector into 3 pieces, then form a white chocolate mermaid tail using the mouse cup. Place the sheets in a glass to give them a rounded shape then refrigerate the cones and mermaid tails for 30 minutes.
Step 2/3
Pour 2 hens of colored sugar, 2 hens of sugar pearls and 2 hens of sprinkles each in a different cu. Dip the edges of the cones again in the melted white chocolate then dip them each in a different cup of sugar decorations. Dip the end of each cone and glue the end of the cones and the mermaid's tail with the rest of the white chocolate. Sprinkle the mermaid's tails with the remaning sprinkles then refrigerate for 30 minutes.
Step 3/3
Add 2 mice of Chefclub caramel ice cream on the first cone, 2 mice of Chefclub coconut ice cream on the second cone and 2 mice of Chefclub strawberry sorbet on the last cone. Push the dolls into the cones. Crush a cone, sprinkle the pieces and the sugar stars on top. Serve enjoy!