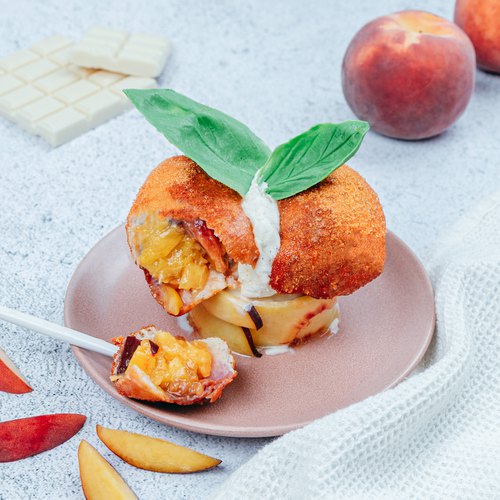 Peachy Fritters
Peachy Fritters! Served with yummy ice cream 🍑​🍩​🍨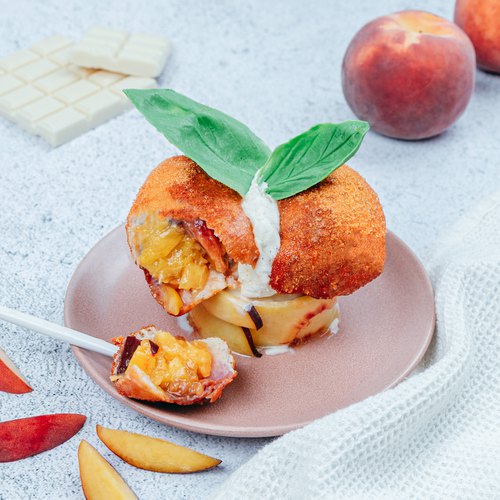 ---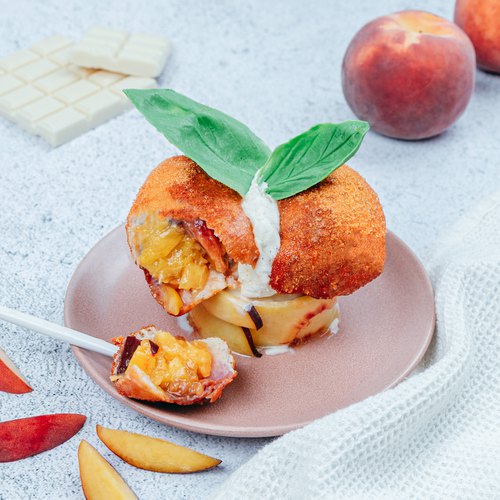 ---
Total time: 1 hour 10 minutes
Prep time: 30 minutes, Rest time: 40 minutes
Ingredients for 3 people
4 peaches
1 egg
1 cup of flour
1 cup of water
Colored sugar
1 cup of heavy cream
White chocolate
Green food coloring
Vanilla ice cream
White chocolate chips
Frying oil
7 tbsp of powdered sugar
---
Tools
Cling wrap
---
Step 1/4
Pit 2 peaches and cut into 4 equal parts. Mix egg, flour and water into a smooth batter. Coat the peaches with the batter and fry in hot oil. Remove excess oil and roll in colored sugar.
Step 2/4
Arrange two peach halves on a plate. Beat the heavy cream and powdered sugar. Place in piping bag and glue the two halves of the peach together.
Step 3/4
Pour melted white chocolate mixed with green food coloring over the peach leaf. Place in the fridge to set and unmold. Place the green chocolate leaf over the peach.
Step 4/4
Cut two peaches into thin slices and place them on a sheet of cling wrap, making three rows. Dip three scoops of Chefclub Vanilla Ice Cream in white chocolate chips so they are completely covered and place them in the center of the peach slices. Roll the slices over the ice cream. Place in freezer. Remove from the fridge and cut into slices. Place two slices on a plate and place the fried peaches with whipped cream on top. Serve and enjoy!