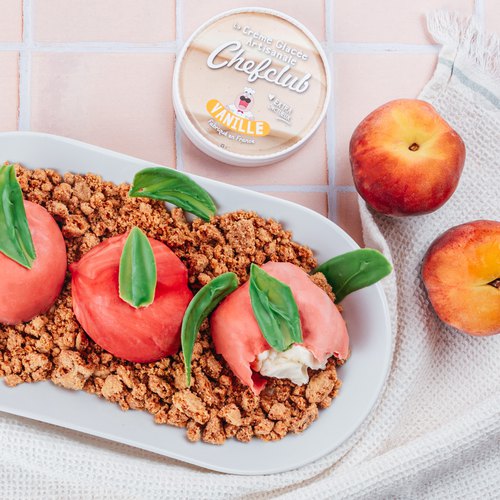 Life Is A Peach Crumble
Life Is A Peach Crumble! With a frozen & creamy center 😘🍑🍦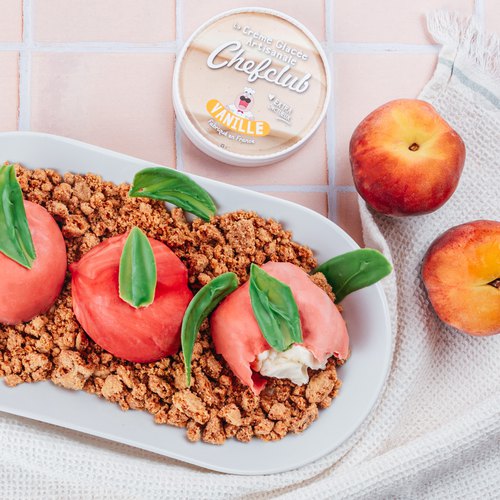 ---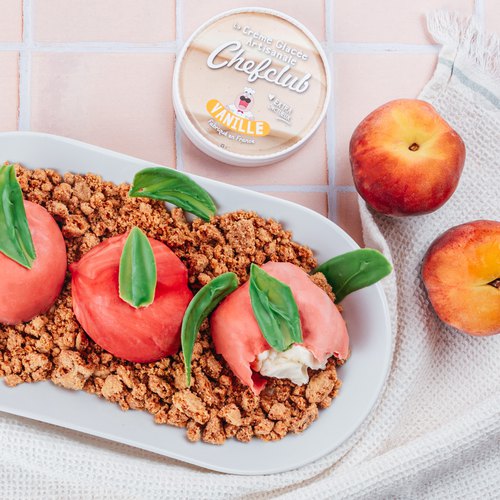 ---
Total time: 1 hour 25 minutes
Prep time: 35 minutes, Rest time: 50 minutes
Ingredients for 3 people
3 peaches
5.2 oz of white chocolate
Red food coloring
Blue food coloring
Yellow food coloring
3 1/2 oz of butter cookies
0.4 cup of peach compote
3 scoops of chefclub vanilla ice cream
---
Tools
Cling wrap
parchment paper
---
Step 1/3
Wrap the peaches in cling wrap and bake for 20 seconds at 430°F. Melt the white chocolate, divide it in two, add a knife tip of red food coloring to part of the melted chocolate and mix to obtain a dyed chocolate. Prick the wrapped peaches with forks, place the peache in a bowl, pour the white chocolate and the colored chocolate halfway up the peach. Mix the chocolates and dip the peach in ice water to set the chocolate. Repeat the process with each peach. Unmold the colored chocolate shells from the peaches and refrigerate them for 20 minutes.
Step 2/3
Melt the rest of the white chocolate, add a pinch of yellow food coloring, half a pinch of blue food coloring and mix to obtain green chocolate. Dip the tip of a knife in the green chocolate, press the green chocolate on a sheet of parchement paper to form leaves. Place the chocolate leaves in a glass to round them and refrigerate them for 30 minutes.
Step 3/3
Crush the cookies into pieces, arrange them in the bottom of a plate. Garnish the colored chocolate shells with peach compote, a scoop of Chefclub vanilla ice cream, arrange the chocolate shells upside down on the crushed cookies. Add the chocolate leaves and enjoy!