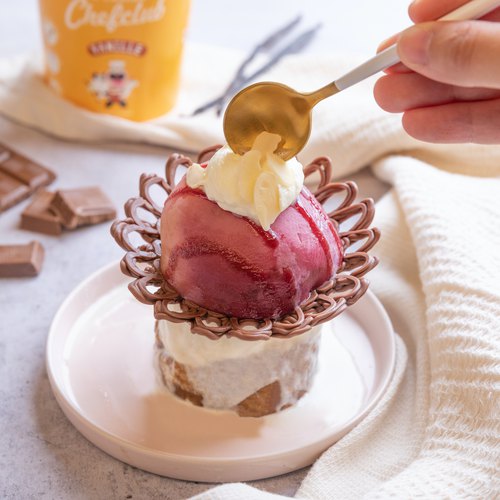 Iced peaches & lace
Fresh, fruity, & fancy with chocolate lace!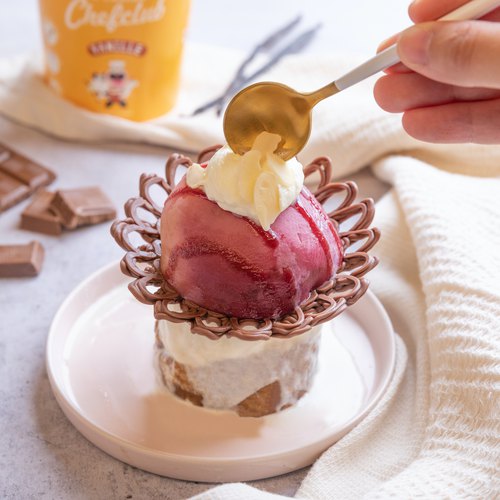 ---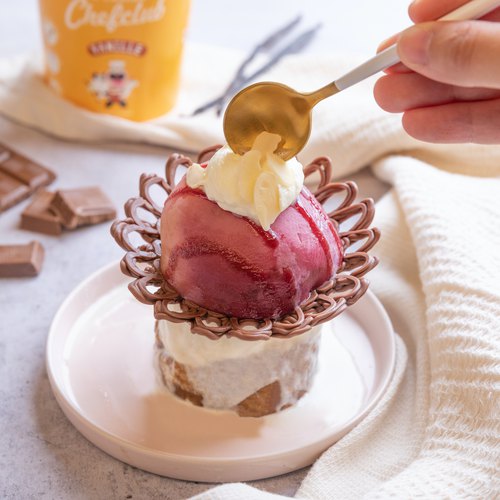 ---
Total time: 1 hour 30 minutes
Prep time: 30 minutes, Rest time: 1 hour
Ingredients for 3 people
3/4 cup of milk chocolate
6 biscoff cookies
3 1/2 tbsp of melted butter
1 carton chefclub vanilla ice cream
3 1/2 peaches
3 tbsp of sugar
1/2 cup of heavy whipping cream
1/2 cup of powdered sugar
1/4 cup of mascarpone cheese
raspberry sauce
slivered almonds
---
Tools
Kettle
Slotted spoon
Glass
Salad bowel
Plastic bottles
Rolling pin
Electric mixer
Freezer bag
---
Step 1/4
Melt the milk chocolate in its wrapper by placing it in the kettle. Once melted, fold the wrapper over to use as a pen by cutting off a bottom corner of the wrapper. Place the upside down slotted spoon on a glass and draw a milk chocolate flower on it to make a chocolate shell. Fill the bowl with cold water and add ice cubes. Dip the slotted spoon with the shell on top into the ice water to set the chocolate. Pinch the sides of the spoon to loosen the shell and set aside. Repeat to obtain 3 shells.
Step 2/4
Cut the center of each plastic bottle to obtain 3 cylinders. Place 2 Biscoff cookies cut in half in each cylinder and add the melted butter. Crush Biscoff with the top of a rolling pin to make a crumble. Cut 3 generous wedges from the ice cream tub and place them on top of the Biscoff and smooth the top. Place in freezer for 1 hour.
Step 3/4
Dip ½ peaches in boiling water with sugar. Once poached, drizzle with raspberry sauce, making grooves on their skins with a spoon. Whip the cream with the mascarpone and powdered sugar with an electric mixer.
Step 4/4
Unmold the cakes from the bottle cylinders then place the chocolate shells on top. Place ½ peaches in each shell. Place whipped cream in a freezer bag and cut off a bottom corner to make a piping bag, then pipe whipped cream on top and sprinkle with slivered almonds. Serve and enjoy!