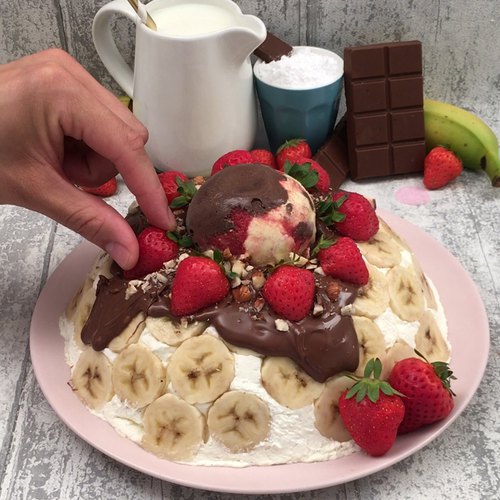 Giant Banana Split
Drop it like it's... ice cold? 🍧🍌🍌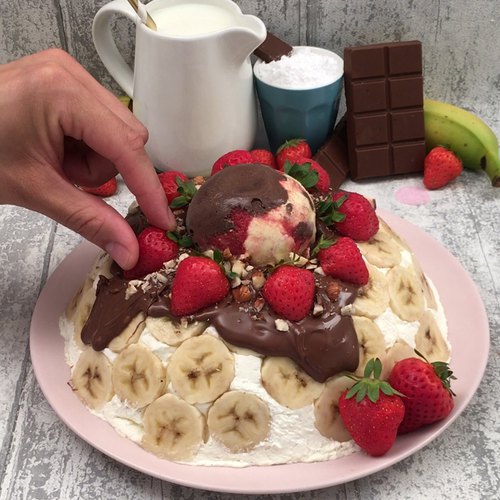 ---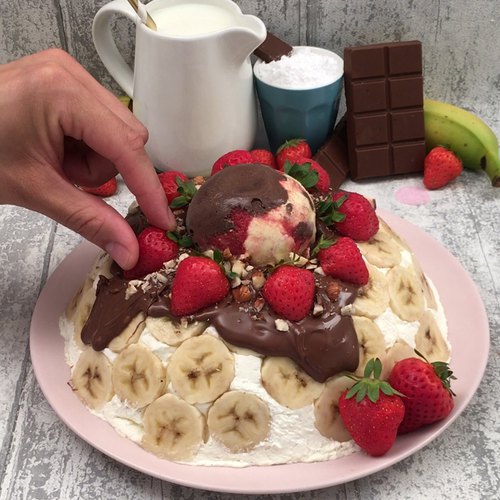 ---
Ingredients for 6 people
4 scoops of vanilla ice cream
4 scoops of chocolate ice cream
4 scoops of strawberry ice cream
3 bananas
4 cups of heavy cream
2/3 cup of powdered sugar
17 3/5 oz of mascarpone cheese
1 vanilla bean
1 1/4 cups of milk chocolate
hazelnuts
strawberries
---
Tools
Cling wrap
Bowls
Salad bowl
Electric hand mixer
Ladle
---
Step 1/3
Line the bowls with cling wrap and fill each with 2 scoops of ice cream of each flavor. Press the 2 bowls together and freeze for 2 hours.
Step 2/3
Line the salad bowl with cling wrap and cover the inside with slices of banana everywhere but the middle. Whip the mascarpone with the scraped vanilla bean, icing sugar, and heavy cream and fill the bowl with the whipped cream mixture. Refrigerate for 1 hour.
Step 3/3
Remove the bowl from the refrigerator, turn it over to demold, and hollow out the top by pressing the ladle into it. Pour the melted milk chocolate into the hole. Remove the ice cream from the freezer and place it in the melted chocolate so it overflows. Sprinkle with crushed hazelnuts, decorate with strawberries, and enjoy!