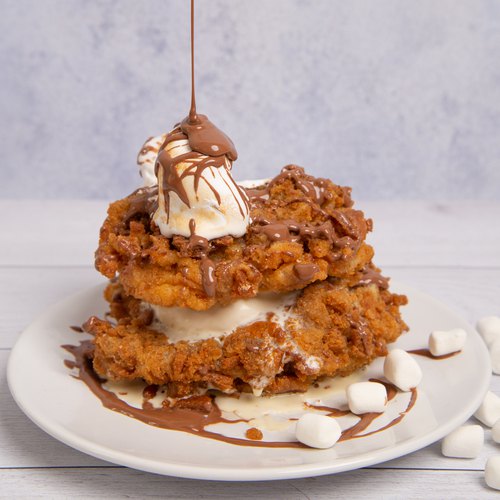 The Ultimate S'more Concept
For s'more love ❤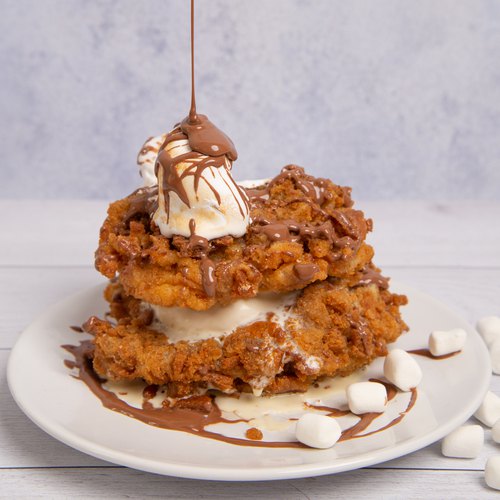 ---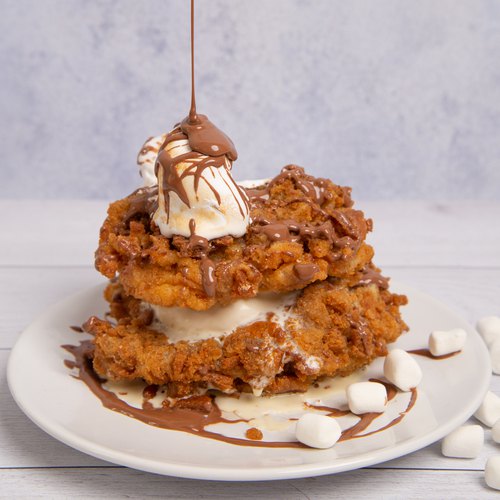 ---
Ingredients for 2 people
1 1/4 cups of flour
1 tsp of salt
1 tsp of baking powder
1 egg
1 cup of milk
1 1/2 boxes of graham crackers
4 milk chocolate bars
2 cups of marshmallow fluff
vegetable oil for frying
4 marshmallows
2 scoops of vanilla ice cream
---
Tools
Plastic bag
Electric mixer
Paper towels
Blowtorch
---
Step 1/5
Prepare the deep fry batter by mixing flour, salt, and baking powder in a bowl. Then add the egg and milk and whisk. Set to the side.
Step 2/5
Crush the graham crackers from 1 box by placing them in a plastic bag inside their cardboard box and crumble with an electric mixer as seen in the video. Pour half of the graham cracker crumbles into the deep fry batter and the other half into an empty bowl.
Step 3/5
Cut 2 chocolate bars and 4 graham crackers in half and prepare 4 graham cracker sandwiches with 6 chocolate squares each. Set aside. Microwave the marshallow fluff for 20 seconds and then pour on top of a second container of marshmallow fluff. Toast the top with a blowtorch, dunk the graham cracker sandwiches in the toasted marshmallow fluff, and then coat in the deep fry batter. Next coat with a final layer of graham cracker crumble and fry in neutral tasting oil at 350 °F for 30 seconds on each side. Then set on paper towels to remove any excess oil.
Step 4/5
Meanwhile melt 2 chocolate bars in a small bowl and remove the ice cream from the freezer so that it can begin to soften. Dip four marshmallows into the melted chocolate with the help of a fork and let cool in the fridge for 5 minutes. Then dip in the marshmallow fluff, toast with a blowtorch, and place on top of two of the deep fried s'mores sandwiches (2 marshmallows per sandwich).
Step 5/5
Lastly assemble the sandwiches. Place one of the plain deep fried s'mores on a serving plate, dress with a scoop of softened ice cream, and close with the marshmallow covered deep fried sandwich. Repeat with the second sandwich. Drizzle both sandwiches with the remaining melted milk chocolate and dig in!