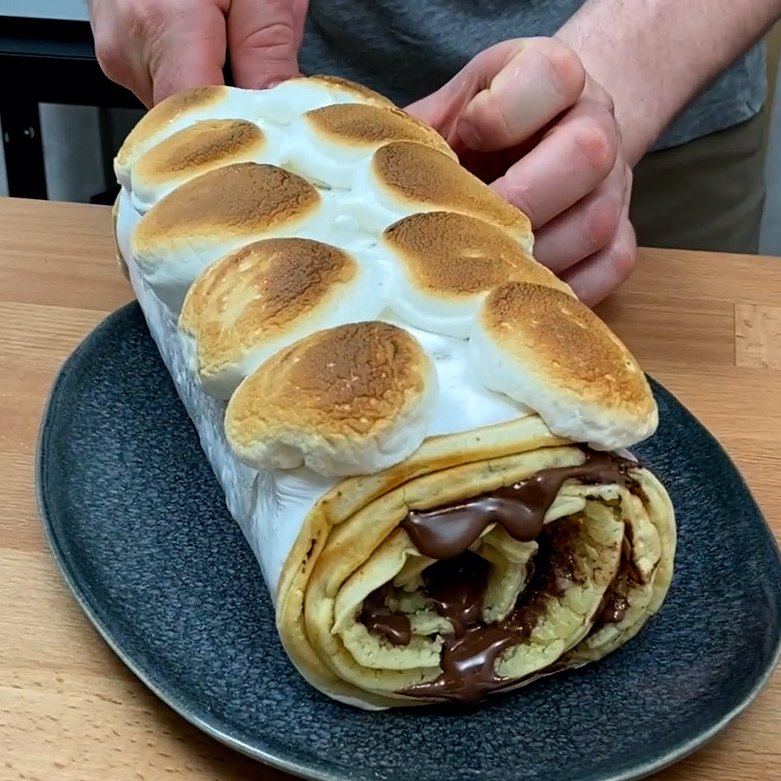 Creative Pancake Recipe
Our creative pancake recipe to make an epic breakfast :)
Made by you!
Ingredients
3 cups flour
2 tbsp baking powder
2 tsp salt
2 tbsp sugar
2 eggs
3 cups milk
6 tbsp melted butter
1 box graham crackers
5 milk chocolate bars
1 cup marshmallow fluff
5 marshmallows
Tools
Plastic wrap
Cooking spray
Rolling pin or metal rod
1. In a bowl mix the flour, baking powder, salt, sugar, and eggs. Then whisk in the milk, mix well. Lastly mix in the melted butter. Cover bowl with plastic wrap and place in fridge for 30 minutes.
2. Turn your pancake griddle onto medium heat. Then crumble 1 packet of graham crackers and empty into a bowl. Unwrap all of the Hershey's chocolate bars and place onto a plate.
3. Spray the griddle with cooking spray and pour a portion of the pancake batter on the griddle. Lift the griddle so that the batter runs down and covers the entire rectangular surface. On one third of the pancake sprinkle the crumbled graham crackers and place 3 chocolate bars on the remaining surface. Roll the pancake with the help of the inner rod of a rolling pin or a long metal rod.
4. Once you have completed one roll, set it off to one side of the griddle and pour a second layer of pancake batter so that it evenly covers the surface of the griddle. Make sure that it touches the edge of the other roll so that they stick together. Add crumbled graham crackers and 2 chocolate bars and then roll the pancake.
5. Set the pancake roll on a baking sheet and heat up the marshmallow fluff in the microwave for 30 seconds. Pour the melted fluff over the pancake roll and decorate with large marshmallows halves. Set your oven to the low broil setting and bake the cake for 3 minutes. Slide onto your platter and then slice into rolls. Enjoy!
Similar recipes from Chefclub