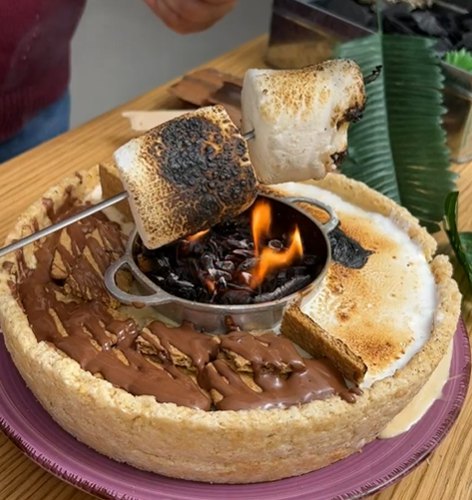 Indoor S'mores Cheesecake
Indoor S'mores Cheesecake! A toasty new treat ♨️🔥🍫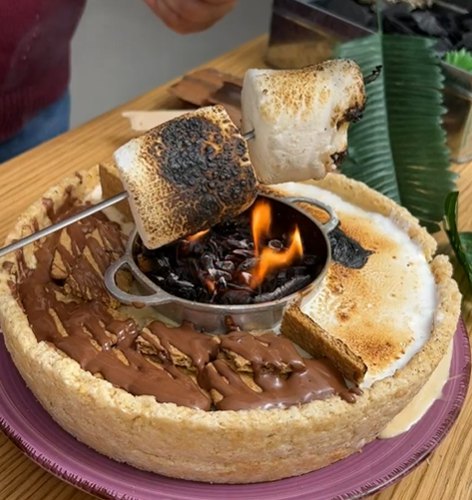 ---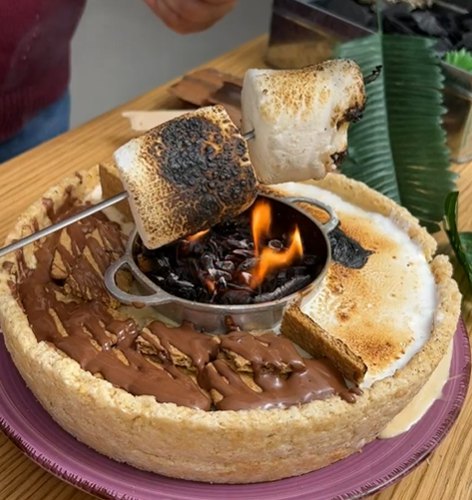 ---
Total time: 2 hours 20 minutes
Prep time: 20 minutes, Rest time: 2 hours
Ingredients for 6 people
12 rice krispies
1 lb of cream cheese
2 tbsp of lemon juice
1 tsp of vanilla extract
7 graham crackers
6 oz of condensed milk
1 cup of milk chocolate
1 cup of marshmallows
---
Tools
Ramekin
Wood chips
---
Step 1/4
Use a tortilla press to flatten the rice crispy treats. Press them into a pie pan to create a crust. Toast with a blowtorch until golden.
Step 2/4
Place cream cheese, vanilla, 5 crackers, lemon juice, and sweetened condensed milk into a food processor. Mix until smooth. Pour into the pie shell. Place a ramekin in the center and add 2 crackers to the sides. Refrigerate to set.
Step 3/4
Drizzle melted chocolate on one side of the cheesecake. Sprinkle crushed crackers over the chocolate. Fill the other half of the cheesecake with melted marshmallow.
Step 4/4
Fill the ramekin with wood chips and light with a blowtorch. Toast the marshmallow, serve and enjoy!