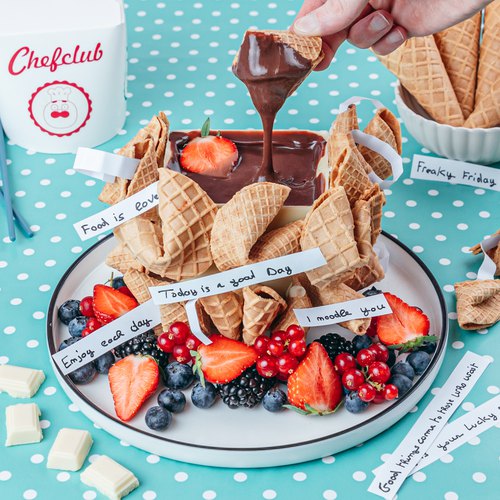 Waffled Fortune Cookies
Waffled Fortune Cookies! Feeling lucky? Try this dessert recipe 🤩🥠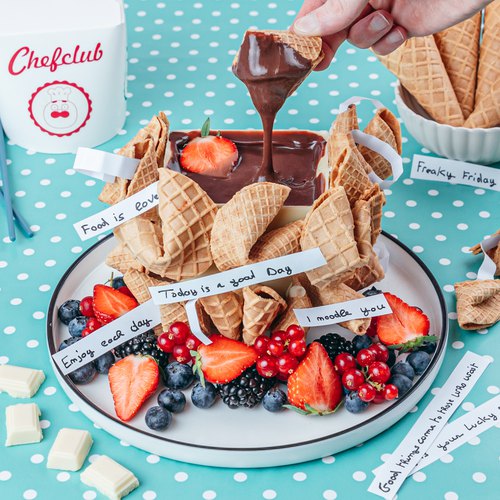 ---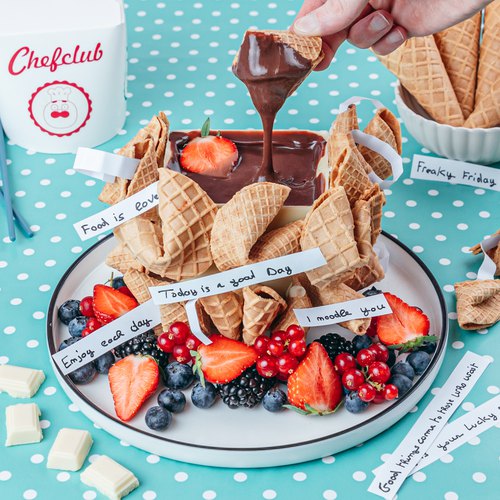 ---
Total time: 45 minutes
Prep time: 45 minutes
Ingredients for 6 people
12 ice cream cones
1 tbsp of potato starch (flour)
1 tbsp of white rice flour
2 cups of white chocolate
1 cup of chocolate chips
2 tbsp of butter
1 can of condensed milk
3 tbsp of water
2 tsp of vanilla extract
Mixed berries
---
Tools
Cling wrap
Edible marker
Small round cookie cutter
---
Step 1/4
Heat water in the large saucepan and place the steamer on top. Steam the waffle cones for a couple minutes until they are pliable and can be unrolled. Using a round cookie cutter and cut out large circles in the cones. Return the circles back to the steamer for 30 seconds to soften them enough to fold into a fortune cookie shape.
Step 2/4
You can place a printed message inside the fortune cookie or write a message on edible paper, storebought or homemade. Mix together the potato starch, rice flour and water to create a paste. Spread onto a plastic wrap lined plate. Microwave for 30 seconds at a time until the paste has become dry and peels up from the plastic. Allow to cool and write your message on the paper before placing it in the fortune cookie.
Step 3/4
In a medium saucepan, stir together the butter, sweetened condensed milk, water and vanilla. Bring to a boil. Remove from heat and stir in the chocolate chips. Allow to cool to room temperature.
Step 4/4
In a clean Chinese takeout box, pour the melted chocolate. Turn the box to coat the interior. Refrigerate until the chocolate is set. Remove the chocolate from the box. Stick the fortune cookies on the sides of the box. Fill with the chocolate ganache and serve with the fresh berries.