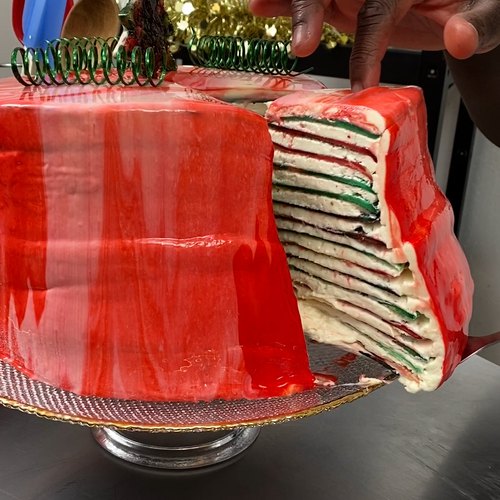 Candy Cane Crepe Cake
A wintery swirl of holiday cheer!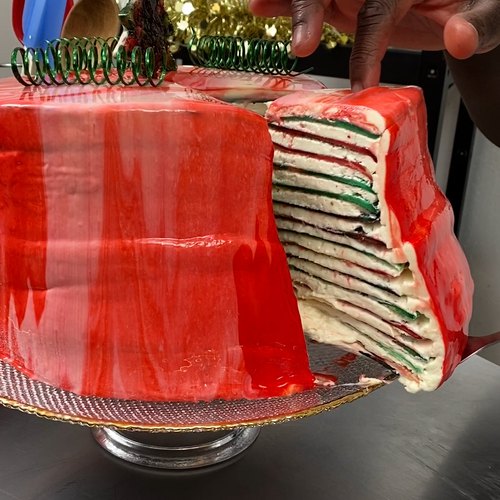 ---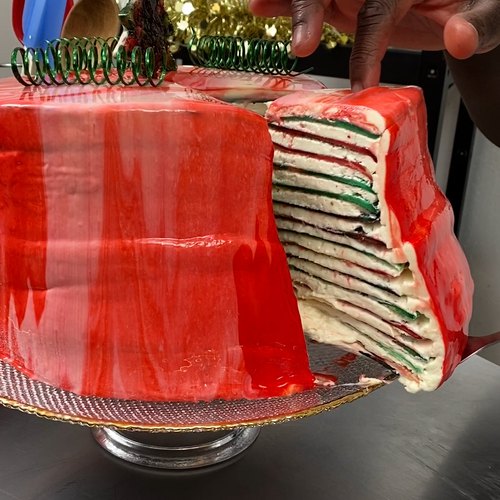 ---
Ingredients for 8 people
6 1/4 cups of flour
1 tbsp + 1 tsp salt, divided
4 1/2 cups of sugar, divided
8 eggs
6 cups of milk
2/3 cup of melted butter
2 tbsp of green food coloring, divided
2 tbsp of red food coloring, divided
1 tbsp of cocoa powder
candy canes
crushed candy canes
8 cups of cream cheese
19 cups of powdered sugar
1 tablespoon vanilla extract
3 cups of butter
1 1/4 cups of water
1 can of condensed milk
13 gelatine sheets
4 2/3 cups of white chocolate
---
Tools
Squeeze bottles
Metal whisk
Scissors
Christmas tree cookie cutter
Hand blender
Pitcher
Parchment paper
Electric mixer
Piping bag
Cooling rack
Baking tray
---
Step 1/6
To make the crepe batter mix flour, 1 teaspoon salt, 1 cup sugar, and 8 eggs in a bowl. Whisk in the milk and melted butter. Divide the batter into three separate bowls. Color one of the bowls with 1 tablespoon red food coloring & cocoa powder and another with the green food coloring. Leave one batter plain. Mix and pour the batters into three separate squeeze bottles.
Step 2/6
In a nonstick pan over medium heat, pour the crepe batter using the squeeze bottles. Vary the color combinations so that you have a variety of different types of crepes. Continue until all of the batter has been used.
Step 3/6
In a sauce pan, heat up 2 cups of sugar until an amber brown color and add in 1 tablespoon of green food coloring. Remove from heat and stir sugar mixture with a spoon until it thickens slightly. Using the metal handle of a whisk, twirl the sugar around it to form a spiral. Cut the spiral with a scissors and repeat this until you have 5 spirals. On a piece of parchment paper, place a metal tree shaped cookie cutter and fill with small candy cane pieces. Then pour in some of the remaining green melted sugar so that you fill in the gaps and let it bake in the oven for 5 minutes at 350 °F.
Step 4/6
For the butter cream frosting mix together the cream cheese, powdered sugar, vanilla extract, 1 tablespoon salt, and softened butter with an electric mixer. Pour the butter cream into a piping bag. On a large plate, place one crepe and then pipe with a layer of frosting and sprinkle with crushed candy canes. Place another crepe on top with a layer of butter cream and crushed candies. Repeat until no crepes remain. Let chill.
Step 5/6
Remove from the freezer and cover the entire surface of the cake with butter cream and freeze. In a saucepan heat the water, 1 1/2 cups sugar, and the condensed milk. Mix in the soaked gelatin sheets. Remove from the heat and pour over the white chocolate. Mix well with a hand mixer and divide into two bowls. In one bowl place 1 tablespoon of red food coloring and mix. Pour the plain icing into the pitcher first, then add in the red icing.
Step 6/6
Remove the cake from the freezer and place it on a cooling rack with a baking tray below. Pour the glaze over the cake until you've emptied the pitcher. Decorate the cake with the Christmas tree and spirals. Enjoy!