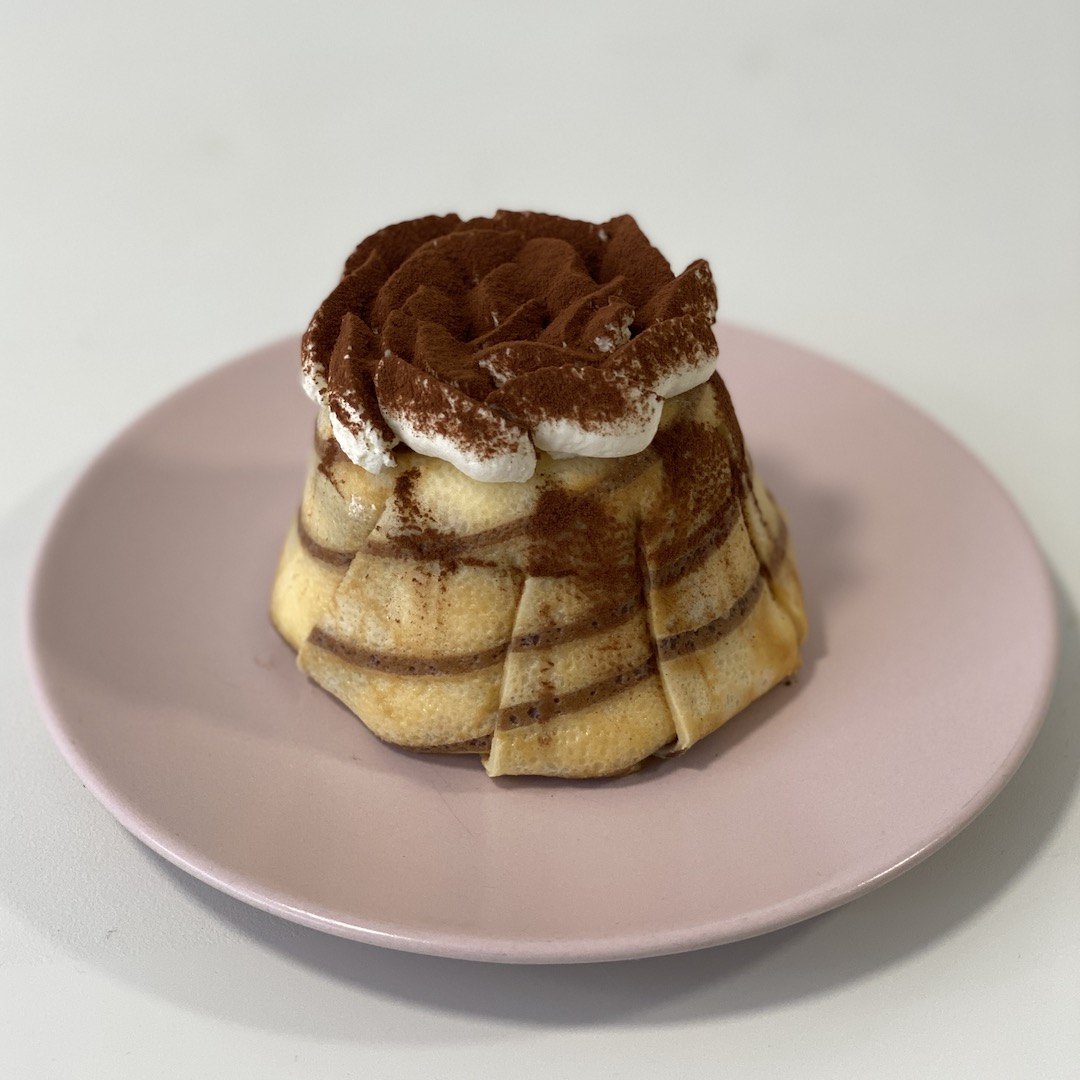 Tiramisu Crepe Cakes
Sweet chocolate & coffee tiramisu swirled up into one delicious crepe 😋
Made by you!
Ingredients
2 cups flour
1/4 cup sugar
4 eggs
2 cups milk
1/4 cup butter
3 tbsp cocoa powder
2/3 cup mascarpone cheese
1/3 cup powdered sugar
1 1/4 cups heavy cream
1 tsp vanilla extract
16 ladyfinger cookies
1/2 cup brewed coffee
Tools
Electric mixer
Squeeze bottle
Freezer bag
Rolling pin
Pastry brush
Cardboard
1. Prepare the crepe batter: Mix the flour with the sugar, eggs, milk, and melted butter.
2. Put 2 teaspoons of cocoa powder in the squeeze bottle and fill with crepe batter. Shake to mix and then draw a spiral on the pan. Pour 1 ladle of plain crepe batter on top and cook on both sides. Repeat for a second spiral crepe. Prepare 2 more crepes following this process, this time with lines from the center drawn with the chocolate crepe batter.
3. Place crepes on work surface and place an empty glass upside down in the center. Make 8 cuts around the crepe with a knife as seen in the video. Remove the glass and place the crepes in small bowls, letting the edges drape over the bowl.
4. Whip the mascarpone cheese with the sugar and the heavy cream. Add the vanilla extract and whip with an electric mixer. Place the whipped cream in a freezer bag (about ¾ full) and cut a bottom corner to make a piping bag. Line the bottom of the crepe bowls with a layer of whipped cream.
5. Flatten 2 ladyfinger cookies side by side with a rolling pin. Then use a glass as a cookie cutter to create a circle and place the rounded cookies on top of the whipped cream. Repeat for each bowl. Brush the cookies with a pastry brush and add another layer of whipped cream. Add another layer of cookies and brush with coffee. Cut each crepe strip in 2 and fold them into the center of the bowl, pressing down well. Turn the bowls onto a sheet of parchment paper and chill.
6. Remove the small bowls from the mini crepe cakes and serve on plates. Decorate the top of the cakes with whipped cream by drawing waves, a flower, or a spiral with a piping bag. Cut a circle out of a piece of cardboard slightly larger than the cakes. Place it a few centimeters above the cakes to protect the bottom part and sprinkle the remaining cocoa powder over the whipped cream. Serve and enjoy!
Similar recipes from Chefclub