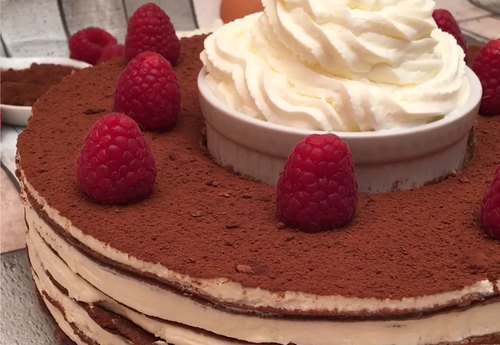 Tiramisu Crepes
Crepe cake meets Italian classic!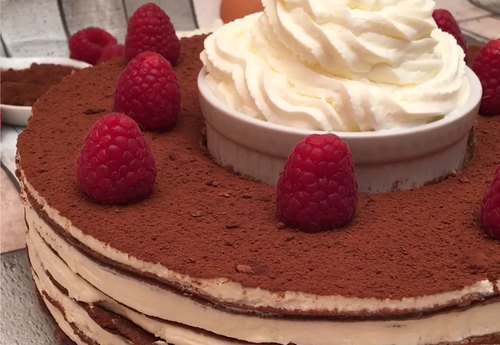 ---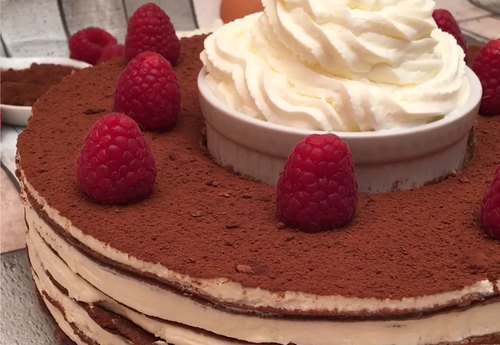 ---
Ingredients for 6 people
1 2/3 cups of flour
3/4 cup of cocoa powder
4 eggs
3 tbsp of canola oil
20 fl oz of milk
16 oz of cream cheese
16 oz of italian mascarpone
1/2 cup of brown sugar
1 espresso shot
1 tsp of vanilla extract
raspberries
whipped cream
---
Tools
Ramekin
Spring-form cake pan
---
Step 1/3
Mix the flour, three-quarters of the cocoa powder, eggs and oil and then pour in the milk, mixing to obtain a chocolatey pancake batter. Place the ramekin in the middle of the pan and cook 5 pancakes around it, 2 minutes on each side.
Step 2/3
Mix the cream cheese, mascarpone, brown sugar, cold espresso and vanilla extract.
Step 3/3
Place the ramekin in the middle of the spring-form pan. Place 1 pancake at the bottom of the pan and spread it with cream. Cover with a crepe and repeat 5 times. Unmould the cake with the aid of the spring-form, sprinkle the remaining cocoa on top, decorate with raspberries, fill the ramekin with whipped cream and enjoy.