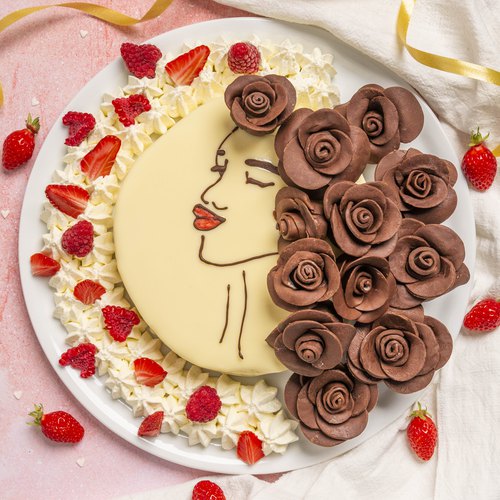 Beautiful Mama Cake
The perfect way to wish Mom a very Happy Mother's Day 💕🌹🎂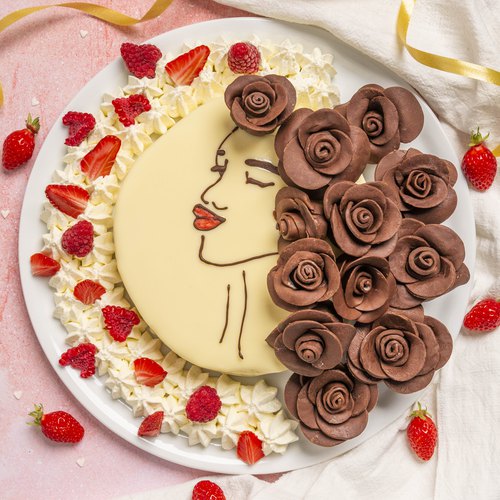 ---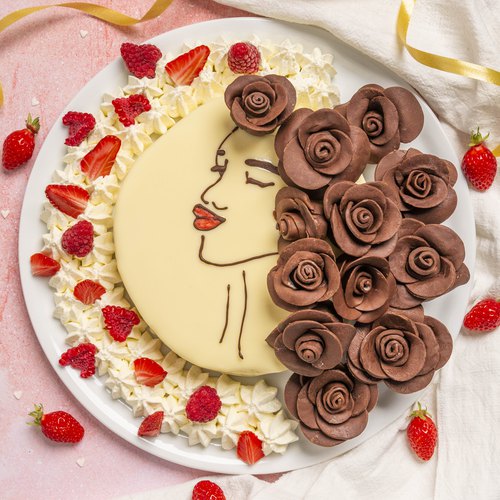 ---
Total time: 1 hour 30 minutes
Ingredients for 8 people
3 eggs
2/3 cup of sugar, divided
1/2 cup of flour
3/4 cup of strawberry jam
3 1/3 cups of whipped cream
5 1/4 tbsp of condensed milk
4 gelatin sheets
1 1/8 cups of white chocolate
1 1/2 cups of dark chocolate
2/3 lb of modeling chocolate
20 strawberries
10 raspberries
---
Tools
Parchment paper
Double boiler
Parchment paper
Double boiler
Cooling rack
Immersion blender
Plastic sleeve
Plastic bags
Wooden skewers
---
Step 1/4
Start by making the sponge cake: mix the eggs and 1/3 cup sugar over heat using a double boiler. Then remove from heat and whip with an electric mixer until the mix increases three times in volume. Gently add in the sifted flour little by little, spread the batter onto a parchment lined baking sheet, and bake for 6 minutes at 400 °F.
Step 2/4
Once the cake has cooled, turn it over, remove the parchment paper, and spread the strawberry jam over the entire surface (save a little for later), and place it in the freezer for an hour. Then take it out, spread a layer of whipped cream on top, and put it back in the freezer for a few minutes so that the whipped cream hardens slightly. Next cut thin strips out of the cake so that you can make a large roll as seen in the video. Roll the first strip, put it on a plate horizontally, and then roll the others around the first one until you form a cake. Cover the cake completely with the whipped cream and freeze it for at least an hour.
Step 3/4
In a saucepan, heat 1/3 cup water, 1/3 cup sugar, the condensed milk, and the soaked gelatin sheets. Heat until dissolved and then add to the white chocolate. Blend with an immersion blender, place the cake on a cooling rack, and pour the icing over the cake. Place on a serving plate and refrigerate while preparing the cake decorations.
Step 4/4
Print out
the face outline by clicking here
and place in a plastic sleeve. Add melted dark chocolate to a plastic bag, cut off the bottom corner, and pipe onto the plastic sleeve tracing the outline of the face. Set in fridge to harden. Meanwhile, prepare 15 chocolate strawberry roses by dipping strawberries into melted dark chocolate with the help of a wooden skewer. Then cover with the modeling chocolate to form roses. Remove the cake from the fridge and decorate with the chocolate face outline, chocolate roses, remaining whipped cream, strawberries, and raspberries. Lastly fill the lips with the remaining strawberry jam. Serve and enjoy!