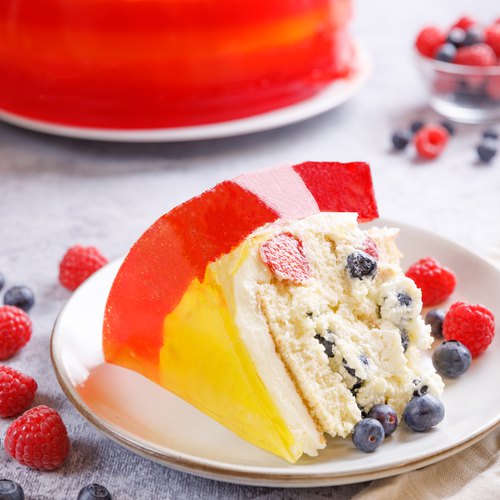 Jello Strawberry Shortcake
You had me at jello 🥰🍰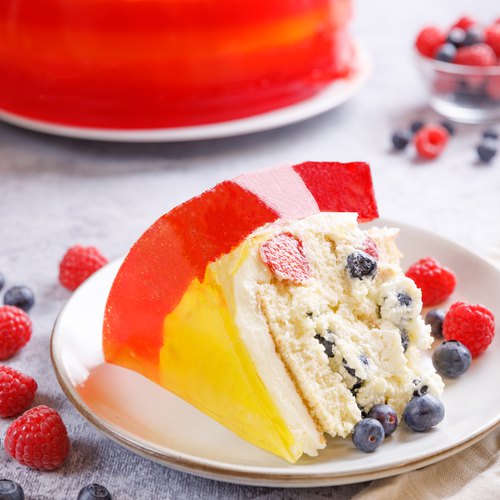 ---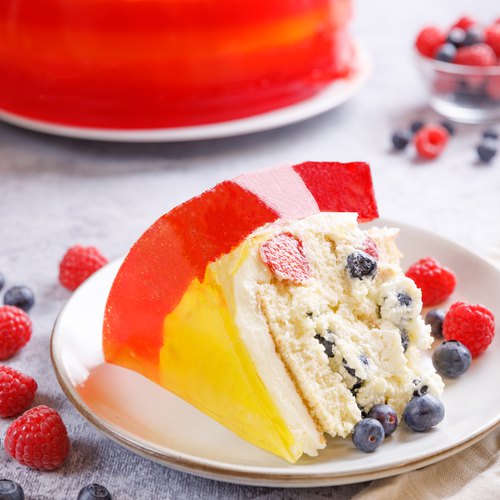 ---
Total time: 1 hour 42 minutes
Prep time: 1 hour , Cook time: 12 minutes, Rest time: 30 minutes
Ingredients for 12 people
8 eggs
2 cups of sugar
1 cup of flour
8 egg whites
9 1/2 oz of butter
4 cups of whipped cream
2 containers of strawberries
2 containers of blueberries
1 packet strawberry jello
1 packet peach jello
1 packet cherry
2 packets lemon jello
---
Tools
Electric mixer
Cake stand
Spatula
Sheet pan
Parchment paper
Thermometer
Piping bag
Ruler
Cotton candy container
---
Step 1/4
For the cake: prepare your favorite cake mix according to box instructions or make a sponge cake. For the sponge cake, whisk 8 eggs and 1 cup sugar in a bowl over boiling water until the temperature reaches 113 °F. Remove from heat, then beat with an electric mixer until tripled in size. Delicately fold in flour 1/3 at a time with a spatula until well combined. Pour onto a sheet tray lined with parchment paper and bake at 350 °F for 12-14 minutes.
Step 2/4
For the buttercream: In a saucepan, heat 1/2 cup water and 1 cup sugar until the temperature reaches 249 °F. While the sugar is melting, add the egg whites to a large bowl, then pour in the hot sugar syrup and mix on medium speed until the sides of the bowl reach room temperature, about 8 minutes. After, add in the butter cubes little by little until well combined. Place in a piping bag.
Step 3/4
Use a bowl to cut out 3 circles from the sheet pan cake. Place one layer of cake on the cake stand, then pipe a layer of whipped cream, add strawberries around the edges, and blueberries in the center. Repeat a second time, then cover with a final cake layer. Next frost the cake with the buttercream. Use a ruler to even out the top and edges.
Step 4/4
Cut off the bottom of a cotton candy container and cut down the side, then place around the cake. In separate bowls or large glasses, prepare the jello packets according to package instructions, then let cool to room temperature. Next, pour the strawberry jello mix around the edge of the cake, then let set for 5 minutes in the fridge. Then add the peach jello mix, followed by the cherry mix, and finish with the lemon mix, making sure to set in the fridge for 5 minutes between each layer. Let the finished cake set in the fridge for 10 minutes or overnight. Serve and enjoy!