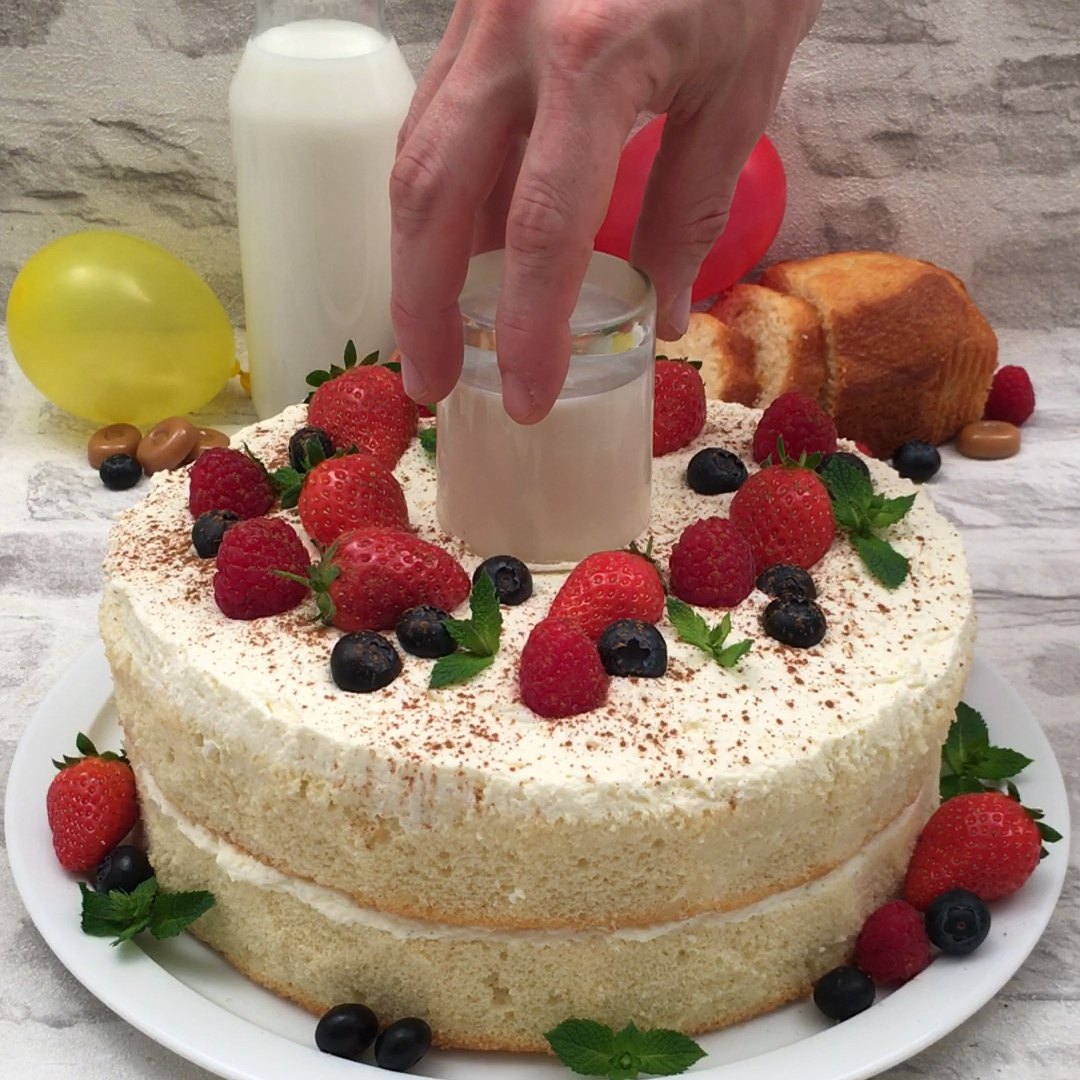 Tres Leches Cake!
Overflowing with flavor. 💦🎂
Total time: 90 minutes
Ingredients for 8 people
Cake mix (vanilla or flavor of choice)
3 eggs
1/3 cup vegetable oil
1 1/4 cup water
Caramels
1 cup milk
1 cup evaporated milk
1 cup condensed milk
Whipped cream
Strawberries
Raspberries
Blueberries
Cinnamon
---
Tools
Glasses
1 9-inch springform pan
Parchment paper
---
Step 1/3
Mix cake mix with 3 eggs, 1/3 cup vegetable oil, and 1 1/4 cup of water. Line the bottom of the springform pan with parchment paper and place a tall glass upside down in the middle. Pour the cake mixture into the pan, around the glass, and place several caramels on top. Bake for 25 minutes at 360° F.
Step 2/3
Mix the milk, evaporated milk, and condensed milk together and pour the mixture into another tall glass. Put a large plate on top of the glass and flip it so it is upside down in the middle of the plate.
Step 3/3
Once the cake is out of the oven, cut it into 2 layers. Place the bottom layer on the plate around the glass of milk. Poke several holes into the cake and spread it with whipped cream. Top with the other cake layer on top and cover it with the rest of the whipped cream. Garnish the cake with mixed berries and a sprinkle of cinnamon. Remove the glass to pour the milk mixture into and over the cake. Enjoy!