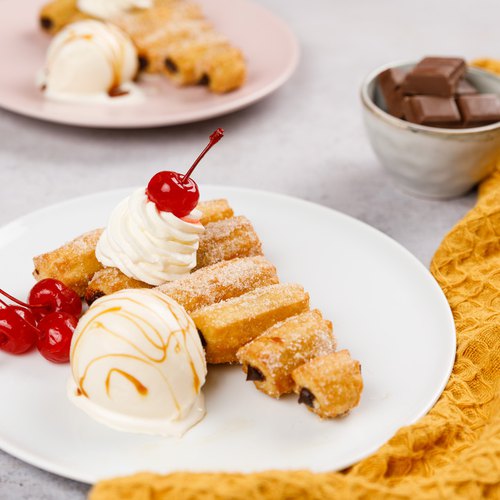 Churros Pie
Made for chocolate lovers 🍩🍫🥰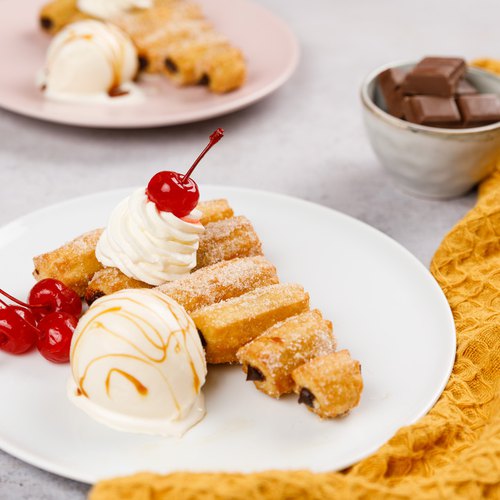 ---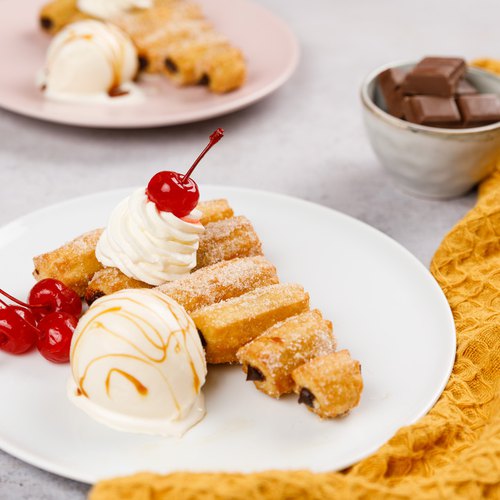 ---
Total time: 45 minutes
Cook time: 45 minutes
Ingredients for 3 people
1 3/4 cups of flour
4 1/4 cups of cream
1 cup of water
1 cup of sugar
salt
2 eggs
1 cup of dark chocolate
5 tbsp of butter
caramel sauce
1 l of vegetable oil
1/2 cup of whipped cream
2 tsp of cinnamon
---
Tools
Parchment sheet
---
Step 1/3
Melt the chocolate with a spoonful of water over a double boiler. Bring cream to a boil in small pot. Pour cream over the chocolate and stir to combine. Pour ganache into a tall glass, stick drinking straws into the ganache and chill to set.
Step 2/3
In medium pot, bring water, 3.5 tbsp butter, 2 tsp sugar and salt to a boil. When butter has melted and water is boiling, turn off heat and add in the flour. Stir until combined. Allow to cool for a few minutes. Add the egg one at a time, mixing well after each. Dough will be thick and smooth. Take an empty plastic water bottle and with the help of an exacto knife, cut a star into the bottle cap. Place the top of the bottle into a plastic bag and screw the cap back onto the top of the bottle. Fill the bag halfway full with churro dough.
Step 3/3
In a bowl combine sugar and cinnamon. Pipe the churro dough onto a parchment lined baking sheet. With a pizza cutter, portion the churros into pie shaped triangles. Fry each churro in hot oil until golden brown. Roll churros in cinnamon-sugar. Fill each churro with chocolate ganache. Using caramel sauce, stick the churros pieces together in order to form a pie shape. Place on a serving plate. Top with whipped cream, the remaining chocolate ganache and a scoop of ice cream. Enjoy!