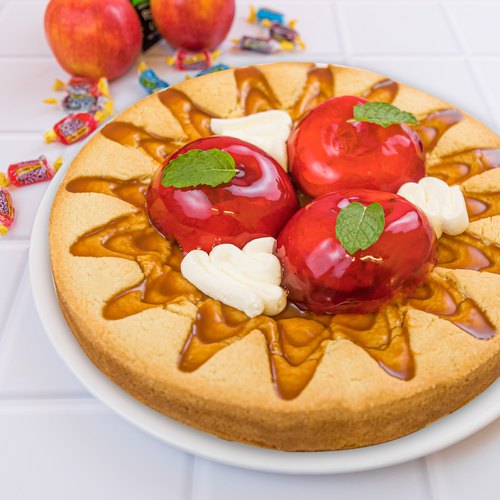 The Candy Apple Pie
The Candy Apple Pie! With a sugar cookie crust 😘🥧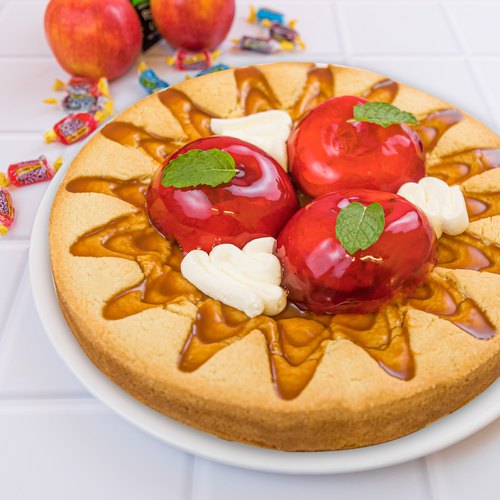 ---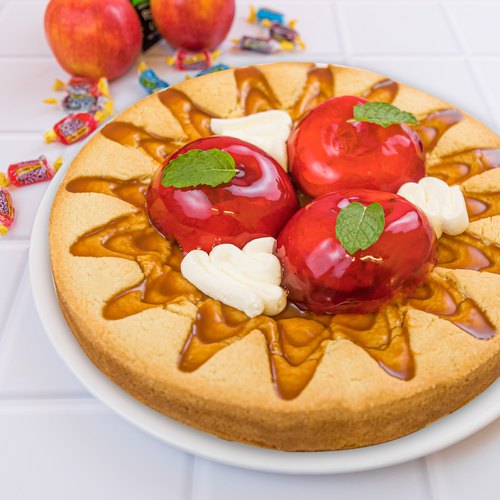 ---
Total time: 2 hours
Cook time: 2 hours
Ingredients for 6 people
1 1/4 cups of sugar
1/2 tsp of salt
1 cup of butter
3 cups of flour
2 egg
30 red jolly ranchers
3 apples
1 tbsp of cinnamon
1 tbsp of cornstarch
1 container of caramel ice-cream
8 oz of cream cheese
1 cup of heavy cream
Caramel sauce
Mint leaves
---
Tools
parchment paper
Electric hand mixer
---
Step 1/4
Mix together the flour, salt, butter and 1 cup of sugar to obtain a sandy mixture. Stir in the eggs and mix until dough form and divide into 2 parts. Roll out 1 part flat between 2 pieces of parchment paper. The second portion of dough roll into 1 or 2 long logs. If too soft place in the refrigerator until cool enough to work with. Preheat oven to 350°F. Grease the springform pan and line with the flat dough. Place the dough log around the edge of the interior of the pan. Using a pie/cake server, press down 3 times moving toward the interior of the dough and move the pan to create a design. Freeze 15 minutes before baking for best results. Bake 20-25 minutes until golden. Allow to cool completely before removing from the pan.
Step 2/4
In a small pot melt the jolly ranchers. Once they have melted pour over the 3 apples. Set aside to cool. Once cool remove the sugar from the apple. Set the sugar aside and use the apples for the apple pie filling.
Step 3/4
Make the apple pie filling by adding the chopped apples, 2 tbsp of butter, 1/4 cup of sugar, cinnamon and cornstarch to a pan. Cook until softened and set aside to cool.
Step 4/4
Whip together the cream cheese, heavy cream and melted caramel ice cream. Place in a pipping bag. Pipe the insides of the red sugar apples with the whipped cream. Add some of the apple pie filling. Coat the apple pie crust with the caramel sauce and place the filled sugar apples face-down in the middle pie. Pipe some additional whipped cream on the pie and sprinkle with mint leaves. Enjoy!