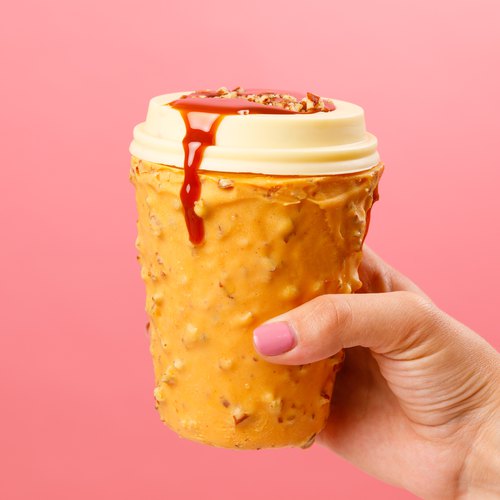 Pumpkin Spice Latte Cup
Because it's not truly fall without pumpkin spice lattes ☕️🎃🍁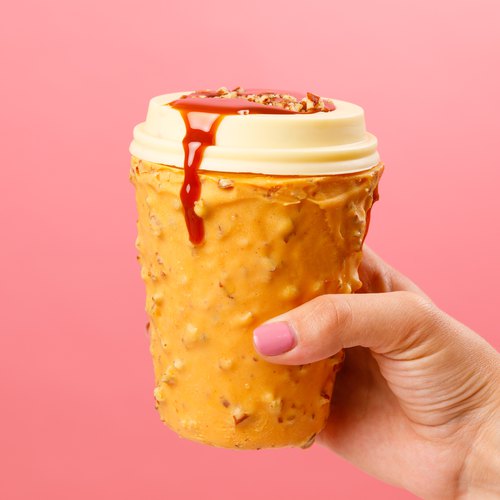 ---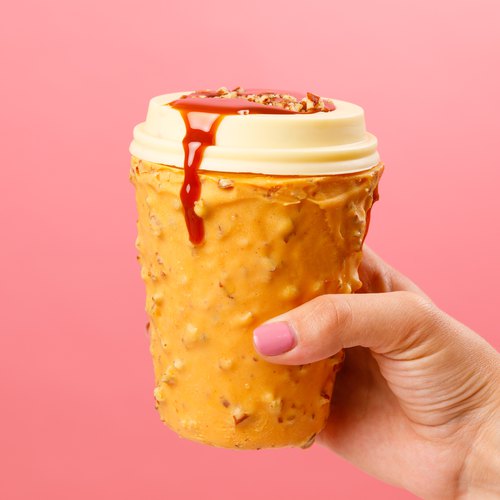 ---
Total time: 1 hour 30 minutes
Prep time: 30 minutes, Rest time: 1 hour
Ingredients for 3 people
3 grande pumpkin spice lattes
3 slices of leftover pumpkin pie
2 cups of whipped cream
caramel sauce
6 lady finger cookies
8 oz of white chocolate
---
Tools
Cardboard coffee cups with lids
Immersion blender
Tape
Cooling rack
---
Step 1/3
Pour half of each pumpkin spice latte into a separate bowl for later. Next add a slice of pumpkin pie to each coffee cup and blend with an immersion blender, then fold the mixture into the whipped cream.
Step 2/3
Garnish the bottom of the cups with a small amount of whipped cream, brushing the cream up against the sides. Add a spoonful of caramel and cover with more cream. Using a glass cut a circle out of 2 ladyfingers. Dip the ladyfingers into the rest of the pumpkin spice latte then place on the cream. Cover with pumpkin cream, then repeat the layers of caramel and lady fingers until you've reached the top. Cover with pumpkin cream, smooth the top, and place in the freezer.
Step 3/3
Cover the hole in the coffee cup lids with a piece of tape. Then paint and fill with white chocolate as seen in the video. Place in the fridge to set. Add orange food coloring to the remaining melted white chocolate, followed by chopped pecans. Remove the paper cup from the dessert once hardened. Place upside down on a rack over a dish and pour the melted chocolate over the cup. Let chill. Turn the cup right-side up and top with the white chocolate lid and a spoonful of caramel. Enjoy!