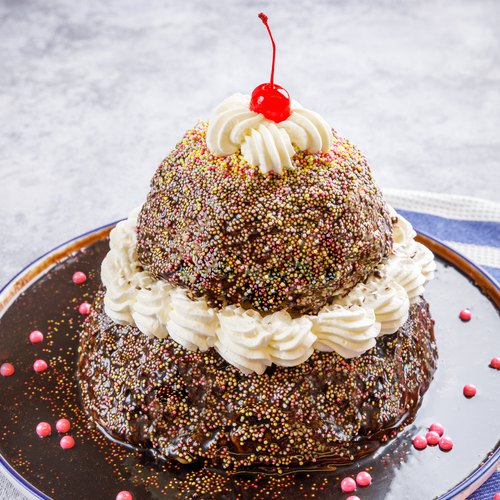 Ice Cream Sundae Tower
Why pick one flavor, when you can have three!? 🍦🍓🍫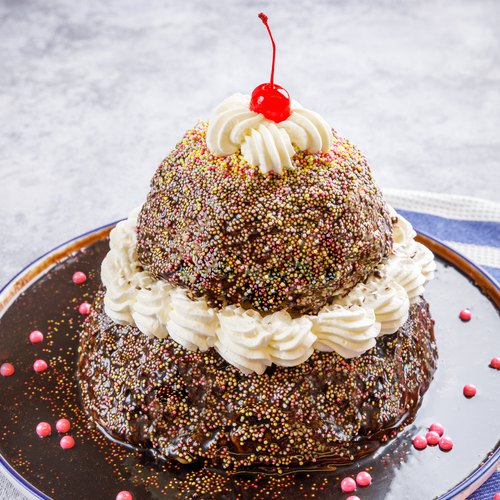 ---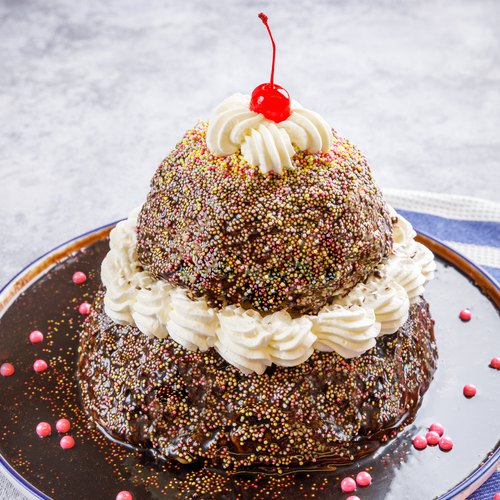 ---
Total time: 2 hours 30 minutes
Prep time: 1 hour 5 minutes, Cook time: 40 minutes, Rest time: 45 minutes
Ingredients for 8 people
1 box of yellow cake mix
2 cups of flour
3 tbsp of olive oil
1/2 tsp of salt
8 cups of sunflower oil
15 scoops of chefclub's strawberry sorbet
10 scoops of chefclub's vanilla ice cream
5 scoops of chefclub's chocolate ice cream
1 cup of chocolate syrup
3 tbsp of sprinkles
1 cup of whipped cream
1 maraschino cherry
---
Tools
Round cake pan
Toothpicks
Dental floss
Plastic bottle
Large metal bowl
Metal ladle or sieve
Paper towels
---
Step 1/3
Prepare the yellow cake batter according to box instructions and bake in a circular cake pan. Next, mix the flour, salt, 3/4 cup water, and olive oil in a bowl, knead out on the counter until smooth, then let rest for 20 minutes. After, add part of the dough to a slightly greased ladle or small sieve and form to its shape. Take the remaining dough and form to the outside of an upside down and greased metal bowl. Set both the ladle and bowl in the freezer for 30 minutes.
Step 2/3
Deep fry the two bowls separately in hot oil until golden brown. After, remove any excess oil with paper towels and place the cooked shells into a small bowl and a larger bowl to support the shells while filling with scoops of ice cream. With each bowl, add layers of chocolate ice cream, vanilla ice cream and strawberry sorbet, smoothing each layer before starting the next. After, set in the freezer.
Step 3/3
Place toothpicks equal distance around the outside of the yellow cake, wrap floss or string around the cake, then gently pull the string tighter until the cake is separated into two perfect layers (see video). Add a layer of cake that fits the large and small ice cream bowl, then flip the large bowl onto your serving plate. Stack the small bowl on top, followed by a small circle of yellow cake. Cut the top and bottom off of a plastic bottle, place it on top of the cake, fill with chocolate syrup and sprinkles, and release to glaze the cake. Add whipped cream between the layers and on top of the cake. Garnish with a cherry, serve, and enjoy!